New Terminal 2 will transform passenger experience at Heathrow
Heathrow sets its sights on a huge improvement in passenger experience when its new Terminal 2 opens in 2014…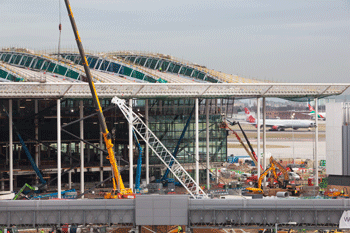 Heathrow today set its sights on a huge improvement in passenger experience when its new Terminal 2 opens in 2014. The terminal, which will welcome 20 million passengers a year and be the home of the Star Alliance group of airlines, passed a major construction milestone today with a 'topping out' ceremony to mark the end of major structural work.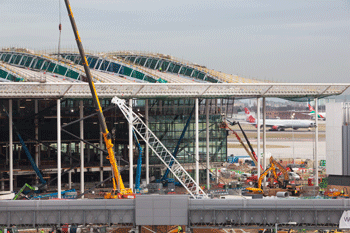 The project is the latest stage in a five-year, £4.8 billion transformation of Heathrow which began after the opening of the £4.3bn Terminal 5 in 2008.
When the Ferrovial-led consortium bought BAA in 2006, Heathrow was rated as one of the worst major airports in Europe, with just 41% of passengers describing their experience at the airport as either 'Excellent' or 'Very Good'. Now, after the opening of Terminal 5 and the refurbishment of Terminals 1, 3 and 4, Heathrow is rated ahead of all but one of its major rivals. 70% of passengers at the airport now rate their experience as 'Excellent' or 'Very Good'.
As well as improved passenger ratings, security queues are shorter, flights are more punctual, and baggage systems more reliable. Terminal 2 will improve Heathrow even further for passengers and move Heathrow into pole position among European hubs.
BAA Chief Executive Colin Matthews said:
"Terminal 5 set a new standard for airport terminals. The completion of structural work on Terminal 2 puts us within touching distance of a future where Heathrow has some of the best passenger facilities in Europe.
"There's a lot still to do, but the opening of Terminal 2 could move Heathrow into pole position among European hub airports and allow us to set our sights on elite airports such as Singapore, Hong Kong and Incheon in Seoul."
Terminal 2 is the UK's largest privately funded construction project. All the investment at Heathrow has been funded by BAA, without any cost to the taxpayer. Around 35,000 people are expected to work on the project over its lifetime, with as many as 5,000 people on site at its peak.
Transport Secretary Justine Greening said:
"For tens of millions of people each year Heathrow is their first impression of the UK, which is why it is so important that it is a positive one. We have been clear that we want to improve the experience of those travelling through our airports, and this new terminal will do just that. This is also a success story for the country's construction industry, with British-made steel, electronics and engineering responsible for a state-of-the-art facility."
To minimise disruption to passengers, construction of Terminal 2 is taking place in two phases. The first phase will see the creation of the main terminal on the site of the old Terminal 2 and Queen's Building. It also involves the construction of a satellite terminal with additional aircraft parking stands and passenger gates called Terminal 2B. This first phase is due to open to passengers in 2014.
The second phase would extend the main Terminal 2 building northwards onto the existing Terminal 1 site. This phase, which would also include the construction of a second satellite building, T2C, would increase the capacity of Terminal 2 from 20 million passengers a year to 30 million passengers a year.
Terminal 2 will become the home of the Star Alliance group of airlines. Lee Hock Lye, Vice President Products & Services, Star Alliance said:
"The Star Alliance carriers are looking forward to moving into our new home at Heathrow. Star Alliance is the world's leading airline network. The Alliance's 27 airlines operate over 4000 aircraft, offering more than 21,000 daily flights to 1,290 destinations and carrying over 600 million passengers a year."
The new Terminal 2 will also produce significantly less carbon than the buildings it is replacing. Large north-facing windows in the roof will flood the building with natural light, reducing the need for artificial lighting without generating uncomfortable levels of heat in the building. Solar panels on the roof will further reduce the dependency on traditional energy supplies. Additionally a new energy centre, partially fuelled by renewably sourced woodchips, will provide heating and cooling for the building.
Related airports
Related people