ACI launches a Guide to Airport Performance Measures
The Guide provides airport managers with an overview and better understanding of the Key Performance Areas (KPAs)…

Airports Council International is pleased to announce the release of a Guide to Airport Performance Measures. This Guide provides airport managers with an overview and better understanding of the Key Performance Areas (KPAs) that can be used to assess the individual strengths and weaknesses of airports
Based on six KPAs, this Guide provides a means of assessing airport performance in the following areas: Core, Safety and Security, Service Quality, Productivity/Cost Effectiveness, Finance/Commercial and Environmental. In addition, the Guide makes reference to several performance indicators within each KPA to address the wide range of possible airport scenarios in terms of aviation activities, commercial activities, site constraints, and governance and ownership structure.
According to Rafael Echevarne, ACI Director of Economics and Programme Development, "While airports value benchmarking as a powerful analytical tool to situate airport performance in relation to objectives, and evaluate achievements in relation to peer performance, this Guide clearly defines each measure, discusses the factors that drive results, defines when and where the measure is applicable and the strengths and weaknesses of each as a benchmarking tool."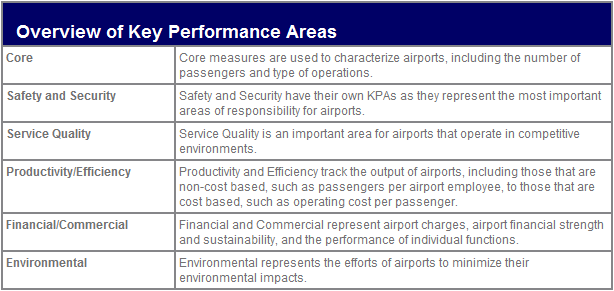 The release of the Guide to Performance Measures is the first step for Airports Council International in the development of Key Performance Indicators. These indicators will permit airports to derive meaningful and relevant scores for each performance area and use these figures as the basis for comparison with other airports.
To download a copy of the Guide to Airport Performance Measures, please click here: http://www.aci.aero/aci/aci/downloads/ACI_APM_Guidebook_2_2012.pdf or visit the following page on our Web site: Home » Priorities » Airport Economics which can be accessed from www.aci.aero.
Related organisations
Related people