AeroPremier Jet Center (KNEW) debuts new Terminal at New Orleans' Lakefront Airport
Lakefront Airport continues down the path of revitalization…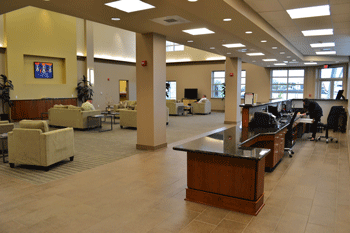 New Orleans' historic Lakefront Airport – once devastated by floodwaters from Hurricane Katrina – continues down the path of revitalization with the opening of Avfuel-branded AeroPremier Jet Center's newly-renovated FBO. The state-of-the-art facility, operational as of February 14, features a two-story atrium-style lobby and over 50,000 sq. ft. of hangar space (capable of accommodating up to a G-V) and is considered one of the most luxurious FBOs on the Gulf Coast.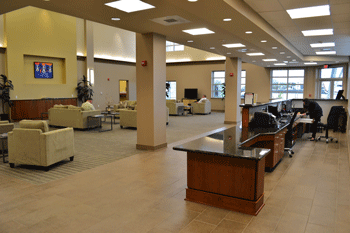 The fate of the building was at one time uncertain: the former National Guard helicopter facility sustained critical damage from Katrina. When AeroPremier successfully bid to operate an FBO at Lakefront Airport in 2008, FEMA funding was allocated to restore the building for this purpose.
The results of the renovation are dramatic. In addition to the elegant lobby, the AeroPremier FBO office features a state-of-the-art flight planning room, cozy pilot lounge and sleep rooms, private aircrew bathrooms and showers and an eat-in bistro-style kitchen. A full complement of line and ramp services are offered, along with certified A&P maintenance support. The numerous amenities include complete concierge services, multiple catering options, and brand new crew cars. An on-site FAA-approved flight simulator allows pilots to log valuable flight time hours while on the ground (provided through a Part 143 Flight School and Charter Service, a tenant of AeroPremier in the new facility).
"Our FBO is designed by pilots, for pilots," said AeroPremier General Manager Jay Taffet, a longtime GA pilot and former military pilot. "Even while operating out of temporary facilities, we were ranked by pilots as a leader in FBO service. The debut of our luxurious new terminal makes us the natural leader in both private air presentation and amenities at Lakefront Airport, all at competitive pricing and reasonable rates."
AeroPremier Jet Center also boasts an amenity that, while not necessary to the operation of an aircraft, definitely makes a visit to the FBO a unique experience: Punctuating the walls of the terminal building are six of the famed "Blue Dog" paintings by Cajun country's native son, artist George Rodrigue (on loan through his local gallery). "These are original, one-of-a-kind paintings by a beloved Louisiana artist," Taffet said. "It's an incredible privilege to display them in our building."
"AeroPremier Jet Center's new facility is exceptional," said Avfuel Director of Marketing Marci Ammerman. "Combined with the reputation for impeccable service and the availability of Avfuel Contract Fuel and AVTRIP Points, AeroPremier is truly a destination FBO."
"We've created an FBO that makes every customer arrival and departure truly special," said Taffet. "Come visit and you'll see why AeroPremier is the FBO that you do not want to miss!"
AeroPremier Jet Center is offering DOUBLE AVTRIP POINTS through May 31, 2012 – no coupon required! Simply present your AVTRIP card or number when purchasing fuel.
Make AeroPremier Jet Center your final choice for the NCAA Men's Basketball Final Four in New Orleans – call 504-248-5240 today to make arrangements!
Related airports
Related organisations
Related people