Port Authority announces record year at region's airports
The Port Authority reported that the region's airports experienced a banner year in 2011…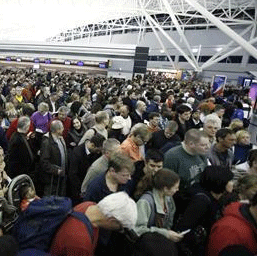 JFK and Newark Report Record Number of International Passengers, Four PA Commercial Airports Report Growth in 2011, and AirTrain System Carries Record Number of Passengers
The Port Authority today reported that the region's airports experienced a banner year in 2011, with John F. Kennedy International and Newark Liberty International airports reporting record international passenger travel, despite slow economic growth and major weather events. In addition, all four of the Port Authority's commercial airports – JFK, Newark, LaGuardia and Stewart – reported passenger growth in 2011.
Not only did the airports set a record number for passengers, but the agency's two airport light rail systems – AirTrain Newark and AirTrain JFK – reported record ridership in 2011 – evidence that the agency's multibillion investments to build both systems is paying dividends in better access to the region's two busiest airports.
The AirTrain Newark system, which links NJ Transit's Northeast Corridor rail line to Newark Liberty International Airport, reported annual paid ridership of more than 2 million people for the first time since the system opened in 2002. In addition, more than 5.5 million paid riders used AirTrain JFK in 2011, the seventh consecutive ridership increase reported by the system, and a 5.4 percent increase over 2010. Millions of additional riders used both rail systems free of charge to connect between terminals, rental car areas and parking lots.
"Our airports continue to be significant economic engines for the region, responsible for more than half a million direct and indirect jobs and tens of billions of dollars in economic activity," said Port Authority Chairman David Samson. "We are committed to continuing multimillion dollar investments in our airports to ensure they continue to serve as premier gateways to the region from around the world."
"As the number of international tourists to our region increases every year, it is our goal to make sure we have modern, efficient, customer-oriented facilities ready to welcome them," said Port Authority Executive Director Pat Foye. "We're looking at innovative public-private partnerships to rebuild LaGuardia's Central Terminal Building into a state-of-the-art facility and we plan a similar initiative with Terminal A at Newark. We also are working with Delta Air Lines to rebuild and transform its aging JFK terminal. As these projects get underway, we are now working to put in place short-term customer service initiatives that will enhance the experience for all users and tourists at all of our airports."
"Our aviation system is critical to the region's fiscal health and to the mobility of the millions of people who live and work here," said Deputy Executive Director Bill Baroni. "For that reason, we need to build for future growth now and we need to provide the very best aviation experience for the record numbers of visitors who already are traveling through our airport system."
In 2011, JFK handled 23.9 million international passengers, approximately 810,000 more than the previous record set in 2010. Newark Airport also set an international passenger record with 11.5 million passengers. Overall passenger growth at JFK was 2.5 percent (47.7 million passengers); 1.6 percent at Newark Liberty (33.3 million passengers); 0.6 percent at LaGuardia (24.1 million passengers); and 4.8 percent at Stewart (413,000 passengers).
To accommodate continued growth, the Port Authority announced plans last December to seek private sector partners to help redevelop the Central Terminal Building at LaGuardia Airport. A similar effort to attract private sector participation in the redevelopment of Terminal A at Newark Liberty International Airport will begin later this year. At JFK, construction is already under way on a $1.2 billion project to build out new terminal space at Terminal 4. Also in the works is a plan to rehabilitate the major runways and expand the terminal at Stewart Airport.