Bengaluru International Airport adopts greener technology for sustainability
With a view to energy efficiency and reducing carbon footprint, BIAL, announced its partnership with KSBDB…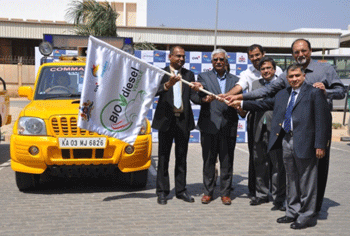 From l-r, Mr. Hari Kumar, VP, Engineering & Maintenance, BIAL, Mr. Y.B Ramakrishna, Executive Chairman, KSBDB, Mr. Abhishek Mudram, Director (Manufacturing), Tetrahead, Mr. Hari Marar, President (Operations), BIAL, Mr. A.K Monappa, Managing Director, KSBDB and Mr. Bhaskar Bodapati, Director (Finance), BIAL
With a view to energy efficiency and reducing carbon footprint, Bangalore International Airport Ltd. (BIAL), today announced its partnership with Karnataka State Biofuel Development Board (KSBDB), Govt. of Karnataka for its operations at BIAL.
Marking another Landmark in a series of many firsts for this airport, BIAL will migrate operations of its ground vehicles to Biofuel supplied by KSBDB. With this the Bengaluru International Airport becomes the first airport in India to adopt Biofuel in its operations, with an eye on environmental sustainability and green technology.
"We have consciously taken this decision to implement and develop Bengaluru International Airport into a green facility and reduce greenhouse gas emissions. Deploying biofuel reduces carbon footprint, in comparison to usage of fossil fuels and thus is a responsible way to meet our energy needs. We are proud to have partnered with KSBDB in their efforts to create an enabling and sustainable environment," said Mr. Sanjay Reddy, Managing Director, BIAL.
BIAL as part of its ongoing efforts towards making the airport energy efficient has taken up several green initiatives in the past including water conservation and management. While these initiatives have been recognized and awarded at various industry forums, BIAL is committed towards adopting such best practices and set benchmarks across all functions at the Airport.
"It's been our constant endeavor to create an enabling environment by harnessing the optimal and sustainable utilization of Renewable Energy sources with a special focus on bio-fuel resources," said Mr. Y B Ramakrishna, Executive Chairman, KSBDB. The adoption of Biofuel by BIAL is a step in the right direction and will go a long way in furthering our Biofuel programmes and policies at the State level," he further added.
Karnataka has been a pioneer in constituting the Biofuel Task Force for effective planning and implementation of all Biofuel programmes. The State has been facilitating the implementation of a broad spectrum of initiatives, including harnessing renewable power and renewable energy in rural areas for lighting, cooking and motive power, use of renewable energy in urban, industrial and commercial applications and the development of alternate fuels and applications.
Related organisations
Related people