Stansted most punctual airport in Europe, third most punctual in the world
London Stansted is the third most punctual airport for departing flights in the world according to the latest figures…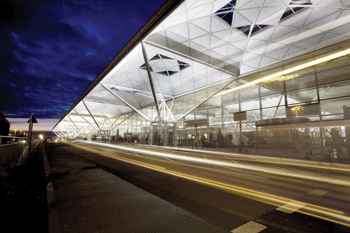 London Stansted's terminal building
London Stansted is the third most punctual airport for departing flights in the world according to the latest figures.
FlightStats, an online flight tracking and airport information service, found that over 88 percent of scheduled flights departed on time from London's third busiest airport during November, outperforming all other European airports for punctuality. Tokyo's Haneda Airport topped the global table, with US airport Minneapolis-St Paul in second.
Stansted Airport's Managing Director, Nick Barton, said:
"This is excellent news for the airport and more importantly our passengers. It's thanks to the help and support of our airlines, handling agents and business partners that passengers flying from Stansted are most likely to take off on-time than any other European airport.
"Stansted is firmly established as a world leader at serving the low-cost airline sector that has transformed air travel. We have a route network that stretches to around 150 destinations with Stansted offering more direct scheduled European flights than any other airport in the world."
The airport has won several notable international awards this year, including the Skytrax 'world's best low-cost airport' award, the 'Air Cargo Award of Excellence' in April, and the UK's best cleaned transport premises at the Golden Service Awards in November.
Related airports
Related people