Bengaluru International Airport wins Prestigious CII Award for Excellence in Water Management
Posted: 1 December 2011 | Bengaluru International Airport Ltd. (BIAL) | No comments yet
The youngest company to be awarded in this category…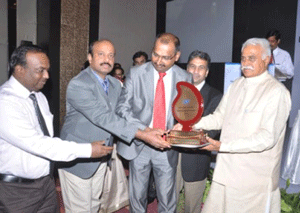 Mr. Hari Kumar, Vice President, Engineering and Maintenance BIAL receiving the award from Shri G.S. Kunnar, Minister of Water and Agriculture, Rajasthan
Bengaluru International Airport Ltd. (BIAL) today announced that it has won the 8th Confederation of Indian Industry (CII) National Award for Excellence in Water Management. The award has been conferred on Bengaluru International Airport for its excellent water efficient unit. This award was received by Hari Kumar, Vice President, Engineering and Maintenance of BIAL during the "National Award for Excellence in Water Management" function held from 23 – 25 November 2011 in Jaipur. The Confederation of Indian Industry instituted the award in 2003. It is, today, recognized as the most prestigious awards in India for operational excellence. The objective of the award scheme is to recognize and award "Excellence" in Water Management in industries 'within the fence and beyond fence' and facilitate sharing of information by excellent water efficient companies.
The annual CII awards for water management aims to recognize the leadership role in implementing water and watershed management projects with the involvement of public / private agencies and community. Companies were short-listed based on a questionnaire, thereafter which they were invited to make presentation at the competition. The awards were evaluated on criterion such as implementation of water saving projects, reduction in specific water consumption and water discharge for three years, water monitoring & reporting systems, adherence to best practice, certifications, per capita consumption of water, monitoring carbon footprints through drives against ground and surface water pollution and creation of awareness about water conservation with its stakeholders.
"The objective of the award at CII is to recognise "Excellence" in Water Management in Industries and to facilitate sharing of information by excellent Water efficient companies. We are happy that BIAL was one of the few companies that have bagged this award in the airport sector. The practices showcased by BIAL were admirable and was appreciated by the panel of judges. We wish BIAL success and lead best practices in Water Management amongst the Airport sector", said Mr. S Raghupathy, Executive Director, CII.
Bengaluru International Airport has been applauded for its maintenance practices used to reduce water consumption. Water equipment and systems like flow controllers and overflow restrictors, sensor enabled hand wash & flushing system, imported Mechanical Runway Sweeper (MRS) for runway cleaning and ride-on scrubber drier for floor cleaning help control water consumption along with a very effective rain-water harvesting unit is also in the aid of water conservation at the airport. Bengaluru International Airport has a well-defined water policy which believes in involving its employees in the water conservation efforts.
Acknowledging the award Mr. Sanjay Reddy, Managing Director, BIAL said "We at the Bengaluru International Airport are delighted to receive this prestigious and coveted award from CII. This recognition further strengthens our resolve to strive higher and higher to satisfy our customers and set benchmarks in airport operations in India. As a young company we strive to be pioneers in innovative business models."
Bengaluru International Airport is the youngest company to win the award. The eligibility criterion is three years of operation. This year's awards saw nominations from 198 companies.
Related airports
Related people