ICAO supports European airport CO2 programme as it extends to Asia-Pacific
Posted: 30 November 2011 | Airports Council International (ACI) | No comments yet
Ground breaking announcement about airports and their actions in relation to the fight against Climate Change…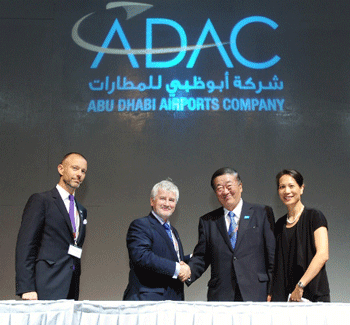 Taken at the signing ceremony of the launch declaration extending Airport Carbon Accreditation to the Asia-Pacific region of ACI. Left to Right: Olivier Jankovec, Director General, ACI EUROPE; Declan Collier, President ACI EUROPE and Chief Executive of Dublin Airport Authority; Kosaburo Morinaka ACI Asia-Pacific Vice President & President & CEO of Narita International Airport; Patti Chau, Regional Director, ACI Asia-Pacific
Just as the COP17 meeting takes place in Durban this week, this year's AIRPORT EXCHANGE conference in Abu Dhabi saw a ground breaking announcement about airports and their actions in relation to the fight against Climate Change.
At a ceremony taking place yesterday evening at the Emirates Palace in the presence of close to 800 aviation industry and institutional representatives, ACI EUROPE's flagship climate change initiative, Airport Carbon Accreditation¹, was formally extended to the Asia-Pacific region, in cooperation with ACI ASIA-PACIFIC.
Having already achieved significant results in Europe, this new development is a decisive step in the establishment of Airport Carbon Accreditation as the global standard for carbon management at airports. In line with this objective, the launch of the programme in the Asia-Pacific region coincided with its recognition and support by the International Civil Aviation Organisation (ICAO). As part of this, ICAO will participate in the Advisory Board² of Airport Carbon Accreditation.
Olivier Jankovec, Director General ACI EUROPE commented "When we first launched Airport Carbon Accreditation in June 2009, there was cynicism from some quarters that a voluntary initiative without quantifiable targets wasn't going to have much success. With 46 European airports accredited³ and a reduction of more than 700,000 tonnes of CO2 last year*, the results speak for themselves."
He added "The demand for the programme has outgrown Europe and ICAO's support is an acknowledgement that aviation is really leading the field in taking action to address its impact on Climate Change."
Patti Chau, Regional Director ACI ASIA-PACIFIC commented "We are delighted that Airport Carbon Accreditation is now available to Asia-Pacific's airports. This corner of the earth will soon be the biggest aviation market in the world and airports are keenly aware of the need to make their facilities and operating processes as environmentally sustainable and efficient as possible."
Raymond Benjamin, ICAO Secretary General said "Airport Carbon Accreditation is a highly significant initiative by airports for meaningful and measurable action in addressing their greenhouse gas emissions. I commend ACI for its success with the programme in Europe and for extending it to the Asia-Pacific region, in line with ICAO's global strategy for dealing with climate change."
The launch ceremony also saw Abu Dhabi Airport become the very first airport in Asia-Pacific to achieve certification within the programme. Bangalore Airport has also committed to becoming Airport Carbon Accredited within 12 months.
References
The institutionally endorsed programme independently assesses and recognises airports' efforts to manage and reduce their CO2 emissions. Participating airports can be certified at 4 different levels of accreditation ('Mapping', 'Reduction', 'Optimisation' and 'Neutrality').
The programme is overseen by an independent Advisory Board including representatives of the European Commission, ECAC (European Civil Aviation Conference) EUROCONTROL and UNEP (United Nations Environmental Programme).
In Europe, 46 airports in 17 countries are accredited to date, across the four possible levels of accreditation. Those airports account for 49% of European passenger traffic.
* The second year of the programme resulted in a total reduction of 729,689 tonnes of CO2, equivalent to removing 180,000 cars from the roads.