Statement from the Wayne County Airport Authority Board
Wayne County Airport Authority has terminated the employment of Chief Executive Officer Turkia Mullin…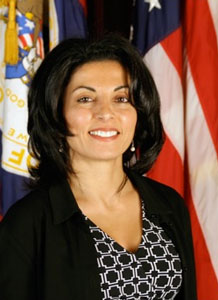 Turkia Awada Mullin, Chief Executive Officer, Wayne County Airport Authority
Wayne County Airport Authority has terminated the employment of Chief Executive Officer Turkia Mullin.
This action was taken after consultation with Airport Authority Counsel and after considering the information available to the Board. The Board will not discuss any further matters about her contract–Legal Counsel will address with her privately.
The Board has appointed Thomas Naughton to serve as the Interim Chief Executive Officer until such time that a permanent Chief Executive Officer is determined. Mr. Naughton has been the Senior Vice President and Chief Financial Officer with the Airport Authority since 2002.