Draka cable underpins Airport's fire safety
Posted: 24 October 2011 | FireBrand Communications Pty Ltd | No comments yet
Draka has again been chosen to supply fire-rated cable for critical life and property protection applications at Birmingham Airport…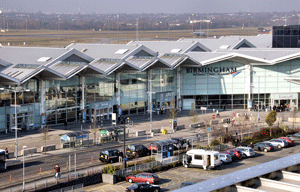 Draka cable has been installed throughout Birmingham Airport.
Draka has again been chosen to supply fire-rated cable for critical life and property protection applications at Birmingham Airport. This is the latest phase of a relationship between Draka and the airport that has resulted in Draka cable being specified across the airport complex, which has recently undergone a £100 million redevelopment.
Draka's intimate involvement with the airport began during the construction of the second terminal – originally called The Euro Hub – that was opened in 1991 and was the first terminal in the world that combined both domestic and international passengers. This terminal has now been merged with the airport's Terminal One into a new "One Terminal". Today, the airport experiences just short of ten million passenger movements a year.
The latest installation of Draka cable provides a secure power supply to the airport's sprinkler fire suppression control system, and utilises Draka's Firetuf FTP120 fire-resistant power cable. This is a OHLS – Halogen Free Low Smoke – 600/1000V SWA (steel wire armoured) power cable that utilises high-performance materials to meet the rigorous requirements of BS 8491:2008 (Method for assessment of fire integrity of large diameter power cables for use as components for smoke and heat control systems and certain other active fire safety systems). It is manufactured with stranded copper conductors and a protective armour layer.
This particular cable was chosen because of its proven ability to maintain the essential circuit integrity when exposed to fire and flame. It achieves the 120-minute fire resistance rating of BS 8519:2010 (Selection and installation of fire-resistant power and control cable systems for life safety and fire-fighting applications. Code of practice) and meets the specified requirement of the constructional standard of BS 7846:2009 (Electric cables. Thermosetting insulated, armoured, fire-resistant cables of rated voltage 600/1000 V, having low emission of smoke and corrosive gases when affected by fire. Specification).
Commenting on Birmingham Airport's decision to entrust this key element of fire safety to Draka, Mark Froggatt, Draka's marketing services manager says; "The Firetuf FTP120 cable is designed specifically to provide enhanced fire performance for critical installation in complex, fire-engineered buildings such as airports, hospitals and public buildings where fire safety replies on the continued working of automatic fire suppression facilities, fire detection and alarm systems, smoke control, ventilation, sprinklers, shutters and firefighting lifts."
Draka is a leading designer and manufacturer of fire performance cables, zero halogen power cables and building wires, and more information on its cable offering and customer support services can be found at www.drakauk.com. The company is part of the Prysmian Group, which has 22,000 employees across 50 countries and 98 plants. Further details on Draka cables are available by telephone on +44 (0) 1332 345431, by fax on +44 (0) 1332 331237, and via email at [email protected].