US Department of Transportation proposes new flights to Cuba after carriers hand theirs back
After travel restrictions were relaxed by President Barrack Obama in 2016, several airlines were given awarded approval to run services between the USA and Cuba – but many soon handed them back. Now the Department of Transportation has announced a new run of services will replace those carriers chose to cancel.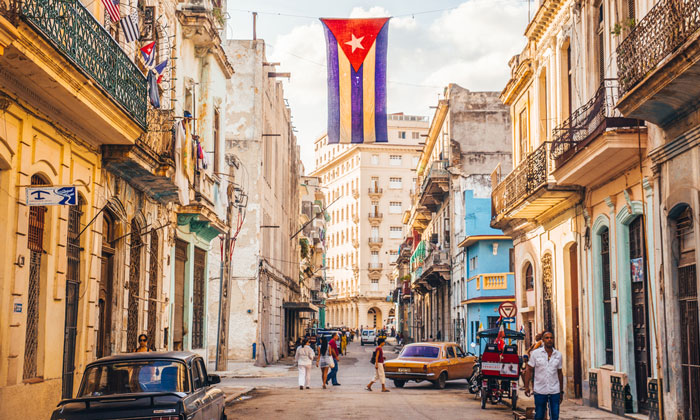 CUBAN THAW: A Cuban flag over a street in Central Havana
The US Department of Transportation (DOT) has opened to public comment a series of new scheduled US carrier flights to Havana is has proposed for approval.
The awards were made possible after several US carriers previously awarded the right to fly to Havana chose to return their awards last year. The reasons given by the airlines for cancelling their services included higher-than-expected costs and over saturation of the market. 
DOT asked carriers that applied in the fresh run of the awards to rank their proposals, and DOT has "tentatively awarded" each passenger carrier applicant's first-ranked choice for an award as follows:
American Airlines from Miami, once daily
Delta Air Lines from Miami, once daily
JetBlue Airways from Fort Lauderdale, 6 times weekly (Sunday-Friday)
JetBlue Airways from Boston, 1 time weekly (Saturday)
Southwest Airlines from Fort Lauderdale, once daily
United Airlines/Mesa Airlines from Houston, 6 times weekly (Sunday-Friday)
A DOT spokesman said: "The Department's principal objective in making its proposed selections was to maximise public benefits, including choosing carriers that offered and could maintain the best ongoing service between the United States and Havana.  Through these proposed selections, DOT seeks to simultaneously address service needs while promoting competition.
"Under an arrangement with Cuba signed in 2016, each country may operate up to 20 daily roundtrip flights between the United States and Havana.  Several U.S. carriers that were awarded flights in 2016 have since returned them, and DOT is seeking to reallocate them to interested carriers.  Because the applicants seek more opportunities than are available, DOT is conducting a proceeding to allocate the opportunities in a manner that will maximise public benefits."
Travellers to Cuba must fall under one of 12 categories authorised by the U.S. Department of the Treasury's Office of Foreign Assets Control. According to the DOT, the Trump Administration's changes in Cuba policy do not alter its ability to authorise US airlines to provide scheduled services between the United States and Cuba. 
Arguably one of the bolder moves of his term in office, the so-called Cuban Thaw was an Obama initiative which began in 2014 with the President becoming the first US Head of State to visit the island in nearly 90 years in 2016. By August 2016, a flight operated by JetBlue became the commercial landing of a US jet in Cuba in more than 50 years.
Related topics
Related organisations
Related regions