Crisplant solves baggage-handling die-back at Pierre-Elliott-Trudeau Airport, Montréal, Canada
Crisplant has designed, supplied and integrated a new baggage storage system…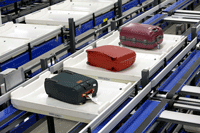 Crisplant – part of BEUMER Group and a leading global supplier of automated baggage handling systems – has designed, supplied and integrated a new baggage storage system into the existing Hold Baggage Screening system at Pierre-Elliott-Trudeau airport, in Montréal Canada, to solve the problem of die-back (congestion) caused by a growth in passenger numbers.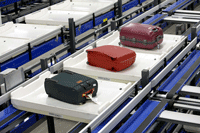 As a major hub for air traffic between Canada, North America and Europe, Pierre-Elliott-Trudeau airport has seen passenger numbers increase to 12 million a year, stretching the capacity of the existing baggage handling system and causing frequent die-back on the conveyor lines between the Level 1/2 and Level 3/4 screening machines. Congestion on the belts resulted in baggage being delayed at the check-in desks instead of being cleared immediately into the baggage handling system. This had a negative effect on the passenger experience as passengers often left the check-in area without seeing their baggage going into the baggage handling system.
At the request of COFELY Services, the airport's operations and maintenance supplier, Crisplant reviewed the existing HBS system and identified the solution: a new buffer system, with a capacity for holding 80 bags, between the Level 1/2 and Level 3/4 screening machines.
Crisplant integrated the tote system, CrisBag®, into the existing baggage handling system, utilising the space below the ceiling to provide additional room for inspection and maintenance. The special CrisBag® totes enable 100 percent track-and-trace providing precise monitoring of each item of baggage up to the point where it is automatically discharged to the conveyors at the Level 3 screening machines. Improved allocation of baggage to the screening lines and the ability to prioritise bags which are time sensitive or require special handling also help to make the baggage handling process faster and more efficient.
"Airport representative", Senior Project Manager, Marcel Gagne, explains, "CrisBag has not only solved the problem of die-back but has helped us to meet our environmental mission by enabling us to minimise energy consumption through its intelligent control system which starts the belt only when a tote is approaching."
Crisplant's Managing Director, Klaus Schäfer, adds, "The inherent flexibility of CrisBag® means that it can be configured as an extension to existing systems with limited floor space, as well as for sites which need to transport bags over long distances. Adding CrisBag® to the existing system is a fast and cost-effective way to solve the need for extra capacity."
Related organisations
Related people