Crisplant launches ultra-compact LS-4000econ sorter at the Inter Airport 2011
Crisplant launch the new ultra-compact version of the industry's most energy-efficient sorter…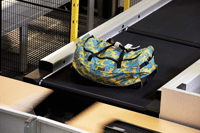 Crisplant – part of BEUMER Group and a leading global supplier of automated baggage handling systems – will launch the new ultra-compact version of the industry's most energy-efficient sorter at Inter Airport 2011, to be held in Munich, Germany, from 11-14 October. Crisplant will also highlight their extensive range of integration and maintenance skills, as well as an in-house manufacturing capability, which allows virtually every element of an advanced baggage handling system to be produced in Crisplant's own facilities.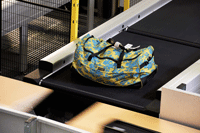 Crisplant's Christoph Oftring, International Sales Manager, will also present a paper focussing on 'Innovations in Smart Baggage Handling for Greater Efficiency', at Inter Airport's conference on Smart Airports: IT & Automation.
As the latest addition to Crisplant's extensive portfolio of services for the design, manufacture, integration, operation and maintenance of high-speed baggage handling systems, the LS-4000econ sorter combines an ultra-small footprint with the industry's most energy-efficient drive system. This allows an advanced, high-speed baggage handling system to be integrated into airports which have the smallest available space, whilst also cutting energy consumption by 75%, compared to sorters driven by conventional motors. In addition to increasing baggage handling efficiency, the LS-4000econ can also be used to optimise load-sharing for screening machines and to help airports to comply with the latest TSA, ECAC or EU standard 3 screening regulations.
According to Crisplant Managing Director, Klaus Schäfer, "The new 'econ' version of the LS-4000 sorter is a cost-effective alternative to conventional conveyor or carousel-based sorter systems and enables Crisplant to extend high-speed automated baggage handling systems into airports which are looking for an economic solution and normally would not have had the floor space to support such an advanced system."
The first LS-4000econ sorter will be installed in Poznan Airport, Poland, where the introduction of an automated baggage handling system, combined with the ability to minimise carbon dioxide emission and increase security, will support growth in passenger numbers and planned expansion at this busy regional airport.
Crisplant combines over twenty years of experience in designing, manufacturing and integrating high-speed baggage handling systems for major airports around the world, with a proven support network for the on-going operation and maintenance of these systems. The complete Crisplant range includes tilt-tray sorters, tote-systems, DCV-systems and conveyors as well as IT and software controls.