Logistics Manager Tim Barclay named Detroit Metro Airport's 2011 Safest Employee
Tim Barclay, Facility Manager for BAL at DTW, was named as DTW's 2011 Safest Employee…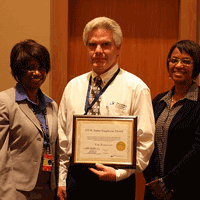 (Left to Right) WCAA Director of Airfield Operations Dianne Walker, BAL General Manager and DTW 2011 Safest Employee Honoree Tim Barclay & WCAA Deputy CEO Genelle Allen. Barclay was named DTW 2011 Safest Employee at the airport's annual Safety Expo in September. CREDIT: Scott Wintner/Wa​yne County Airport Authority
Tim Barclay, Facility Manager for Bradford Airport Logistics (BAL) at Detroit Metropolitan Airport (DTW), was named as DTW's 2011 Safest Employee during a special ceremony as part of the Airport's third-annual Safety Expo.
Barclay was selected among 25 nominees from across the airport community—representing employees of the Wayne County Airport Authority (WCAA), airlines, rental car agencies, ground service providers, Transportation Security Administration (TSA) and other airport business partners—who were all recognized during the ceremony for their outstanding commitment to workplace health and safety.
"Maintaining a safe, healthy environment for all airport employees and users is vital for keeping one of the world's busiest airports moving," said WCAA CEO Turkia Awada Mullin. "We are extremely grateful to Tim and the many outstanding individuals he represents who demonstrate a commitment to safety each and every day they come to work here at Detroit Metro Airport."
While BAL and Barclay were initially hired to run the airport's two terminal loading docks, Barclay quickly recognized a need for a more efficient and safe way to collect used cooking grease and sludge from around the airport for disposal. Although it was outside the scope of BAL's contract, Barclay took initiative to develop a new process and related equipment necessary to streamline the collection and removal of oil and grease from the terminal buildings. Thanks to his efforts, more than 3,000 gallons of used cooking oil are now collected and removed from the terminals each month in a safer, more cost-effective manner. Barclay's nomination was strongly supported by each of the food and beverage operators at DTW, Delta Air Lines and WCAA.
"Leadership can be fostered over time with most managers; however, in rare occasions I have had the pleasure to work with natural-born leaders who during their entire life have drawn people to them for inspiration, advice and knowledge. Tim Barclay is one of those very rare natural leaders who has always been and continues to be a coach, mentor, captain and leader for our team and this entire airport community for which he serves," said BAL CEO Benjamin Richter.
Barclay, a 25-year veteran of warehouse and logistics operations primarily in the food service industry, joined BAL as head of the company's Detroit Metro Airport operation—its largest and most diverse—in January 2006. Barclay is widely considered to be BAL's most experienced operations expert. In 2009, he was named "BAL Manager of the Year" in 2009 and has been integrally involved in problem-solving at all levels of BAL's operations.
Nominees for this award were identified by their supervisors for having demonstrated an outstanding commitment to promoting a safe and healthy airport workplace–and by extension–a safe, healthy and efficient environment for airport customers. Each nominee was recognized during the Expo award ceremony with a certificate presented by WCAA Deputy CEO Genelle Allen, WCAA Director of Airfield Operations Dianne Walker, and representatives from the Federal Aviation Administration (FAA) and Michigan Occupational Health and Safety Administration (MIOSHA).
In addition to the recognition ceremony, more than 500 airport workers participated in various events conducted throughout the day-long Expo, including seminars on relevant health and safety topics such as airfield and ramp safety, ergonomics, electrical safety, hearing conservation and appropriate work gear. The Expo also featured displays from 46 local vendors and agencies with resources to share regarding a safe, healthy workplace. In advance of Breast Cancer Awareness Month, Delta employees set-up shop with the airline's signature "Pink Boutique" selling pink food and novelty items to benefit the Breast Cancer Research Foundation. The local Red Cross was also on-site conducting a blood drive.
The Expo was conceived, planned and hosted by employees representing WCAA as well as local staff from airlines, FAA and the airport's other federal agency partners, with assistance from the Westin Detroit Metropolitan Airport and MIOSHA.
2011 DTW SAFETY AWARD NOMINEES ALSO RECOGNIZED (By Company)
Doug De Rosia, American Airlines
Marian Manta, ASIG
Roger Bius, Delta Air Lines
Eileen Aparicio, Delta Air Lines
Heather Hellwarth, Enterprise Rent-A-Car
Lewis Bird, FAA
Carol Jenkins, Motor City Central Parking
Chris Becker, Otis Elevator
Donald Bougenoy, Servisair Fuel
James Kokoszka, TSA
Judith White, TSA
Susan McLain, TSA
Beverly French, US Airways
Mike O'Sullivan, WCAA
Jim Shotwell, WCAA
Dion Zammit, WCAA
Matthew Turek, WCAA
James Warner, WCAA
Tina Hicks, Westin Detroit Metropolitan Airport
Jason Tinsley, WCAA
Related airports
Related people