LoungeLink
Aircraft Cabin Interiors have seen considerable layout utilisation and design innovation, making spaces more comfortable whilst enhancing the on-board passenger experience…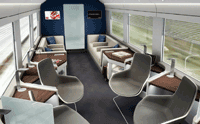 LoungeLink
Over the last 15 years, Aircraft Cabin Interiors have seen considerable layout utilisation and design innovation, making spaces more comfortable whilst enhancing the on-board passenger experience. There has been little focus however on extending this experience to transit interiors to and from airports.
In addition, as the experience through airports is often rushed – from queuing at check-in to queuing for security and boarding the aircraft – the transit train provides a unique opportunity before boarding a flight to download emails and files. Business travellers, in particular, often make use of this time to make final preparations ahead of meetings. Current train interiors are little suited to these activities.
LoungeLink is an idea to improve transit services and make the journey between airport and city centres more comfortable, practical and useful and make for a speedier journey through the airport.
LoungeLink incorporates a series of features drawn from Priestmangoode's extensive experience in designing transport and hospitality environments including:
Business class cabins have to perform the hardest on an aircraft. Passengers are looking for privacy and comfort, while the airline needs to prioritise seat count. Our experience has shown us that a staggered layout is an efficient way to utilise a small space, maximise seat numbers, provide privacy, and improve passenger comfort.
In order to facilitate working on transit trains, we propose to have single workstations with sliding partitions for optional privacy. These would provide an ergonomic working environment in which to prepare for meetings or access files before boarding a flight. Also integrated are individual work/task lamps, document and bag/briefcase storage, drink holder, and power & data ports. We have been working in the airline and transport sector for over 15 years now and understand the needs of passengers. Presently, business travelers may be out of contact with their office or clients for the entire duration of their travel, from leaving the city centre until they reach their final destination. LoungeLink would provide them with an opportunity to effectively use the transit train as a moving office, downloading files and emails ahead of boarding flights and upon arriving at their destination.
In order to improve the passenger journey from start to destination, we believe that interiors (including airline, ground services, and transit) need to become more lounge-like, using furniture and design details more in keeping with your own home. Generous sized leather armchairs will heighten the feeling of luxury combined with padded and sculpted foams & cushions, textured surfaces, and the use of soft ambient light spills. The chairs would sit on swivel bases, allowing for a flexible layout, facilitating passengers travelling alone or together in groups, creating a more sociable space. Adjacent to this are aisle facing sofas with a refreshments zone.
Live departures board & On-board Check In
Other LoungeLink features include a flight information display and a dedicated monitor for check in. All of which enables LoungeLink to enable a speedier journey through the airport.
With increased competitiveness from other modes of transport, particularly over short haul journeys, Priestmangoode believes it's imperative that the airline industry focuses its attention on the entire passenger journey, beyond just the Aircraft Interior. Better connectivity with city centres and a more comfortable transit journey with significant passenger benefits will be crucial to airlines' success in the future.