Internet kiosks at Warsaw Chopin Airport
Travellers can now check their e-mail, visit Chopin Airport website or get the latest news…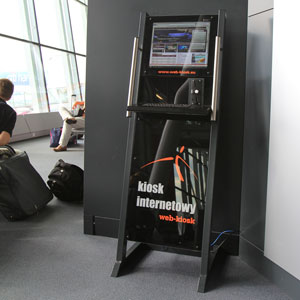 Internet kiosk at Warsaw Chopin Airport
New Internet kiosks have been installed in the Terminal A passenger area. While waiting for their flight, travellers can now check their e-mail, visit Chopin Airport website or get the latest news.
The kiosks, available to passengers who passed the security check, are located on the departures level, five in the Schengen zone and four in non-Schengen.
"Our priority is to further develop services offered at Chopin Airport. That's why we continue to deliver improvements, making the wait at the airport more enjoyable for our passengers. Among new facilities are user-friendly internet kiosks where travellers can check the latest news, browse the web and find travel tips," says Piotr Nalej, Commercial Bureau Director.
Kiosk users have free access to Chopin Airport website. Browsing other sites is subject to payment – the price list is available at each terminal.
Until now, web access at Chopin Airport has been available only at some catering points and promotional zones. Passengers could also use both wireless and wired Internet at Executive and VIP Lounges. The new web-kiosks were supplied by ArtBoro company from Opole.