Phoenix Sky Harbor passenger numbers up more than 5% in 2011
Posted: 10 August 2011 | Phoenix Sky Harbor International Airport | No comments yet
June statistics are in for Phoenix Sky Harbor International Airport and they show a passenger increase of 6.3% over June 2010…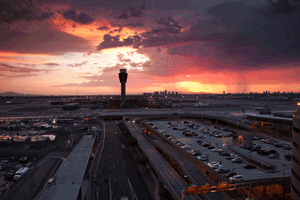 June statistics are in for Phoenix Sky Harbor International Airport and they show a passenger increase of 6.3% over June 2010.
This is the tenth straight month of increased passenger activity at Sky Harbor. In May, there was a 6.6% spike in passengers compared to the previous May. Between January and June of this year, Sky Harbor welcomed more than 20 million passengers, an increase of 5.2% over the same time period last year.
According to the Greater Phoenix Convention and Visitors Bureau, events such as college bowl games, the Waste Management Open, Rock n' Roll Marathon and baseball's Spring Training increased hotel occupancy in the Phoenix area during the first half of 2011. In addition, conventions have drawn hundreds of thousands of visitors to Phoenix this year.
Last week alone, a conference bringing 30,000 travelers to the Valley of the Sun took place at the Phoenix Convention Center, helping to make this one of the busiest summers on record for the facility. Increased convention and business travel around the Phoenix metro area means that the passenger numbers at Sky Harbor will continue to improve. What's more, these newly released June airport statistics don't yet reflect Major League Baseball All-Star Game visitors or the expected increase in Arizona travel for July and August.
"We are very encouraged by these increased passenger numbers. We're working diligently now to be ready for continued growth. With projects such as the Phoenix Sky Train, we are going to be ready for a full recovery," said Danny Murphy, City of Phoenix Aviation Director.
Related airports
Related people