Self check-in becoming more and more popular at Chopin Airport
Nearly 150 thousand passengers flying from Chopin Airport have used self-service kiosks so far…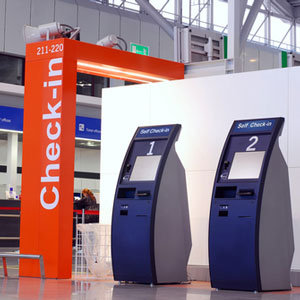 Nearly 150 thousand passengers flying from Chopin Airport have used self-service kiosks so far, reflecting the growing popularity of this type of check-in.
Self check-in kiosks were introduced at Warsaw Airport in September 2008. Lufthansa, the airline with the largest number of self check-in users, was the first one to offer the service. Other air carriers were quick to follow and today self check-in is also available to Chopin Airport passengers flying with Air France/KLM, Austrian Airlines, Finnair and LOT Polish Airlines.
With self-service kiosks, travellers no longer have to use traditional check-in desks. They can print their boarding passes themselves and proceed directly to security and onwards to the departure gate. Passengers with hold baggage can take their bags to the drop off after checking in at the kiosk.
Starting from March 2011, LOT passengers can also use Web kiosks to check in online (currently there are six such facilities available at the airport). The process is much the same as with self-service check in kiosks – travellers have to enter their identification and flight details, pick a seat and print a boarding pass.
Online check-in service is now offered by the majority of airlines operating in Warsaw. Some of them (e.g. Wizz Air) go as far as to encourage their passengers to use it as the preferred check-in option, introducing additional charges for traditional check-in.
Since 2008, it has also been possible to check in using a mobile phone. This service is available to travellers flying with Lufthansa, Austrian Airlines, LOT Polish Airlines, British Airways and El Al. Passengers receive their boarding passes via MMS or in the form of a message with a link to the mobile boarding pass and simply scan the on-screen barcode at the airport security checkpoint.
"Passengers who are fond of new technology are happy with this check in service. Once at the airport, they can go straight to security control. They don't need to queue for a boarding pass and can spend more time shopping, in a restaurant or relaxing in one of the executive lounges," said Michał Hofman, manager of Chopin Airport's Passenger Service Quality and Handling Processes Section.
Self check-in is growing in popularity. While in January 2010 over 90% of passengers departing from Chopin Airport still used traditional check-in counters, this fell to 74% in December. Self-service check-in kiosks were used nearly 150 thousand times and the number of passengers who chose to check in online reached 35 thousand during the whole of 2010.
Related airports
Related people