May passenger growth strong, freight down slightly
Worldwide passenger traffic grew significantly in May. Total passenger numbers were up worldwide 6.6 per cent…

Worldwide passenger traffic grew significantly in May. Total passenger numbers were up worldwide 6.6 per cent propelled by strong international demand across all regions with the exception of Africa (-16.5%), where key markets such as Egypt continue to feel the impact of the uprisings in several North African countries.
International traffic in Asia-Pacific expanded by 9.8 per cent, a very positive result even against the background of continued declines at Japanese airports following the earthquake and tsunami in March. Europe overall passenger numbers increased by 8 per cent as Turkey, Spain, Russia and Northern European countries generated significant growth.
Latin America-Caribbean registered the fastest growth rate at 15.3 per cent driven by very strong domestic demand in Brazil. Overall growth of 5.1 per cent in North America was helped by a 7.8 per cent expansion in international traffic. Results in the Middle East (+6.7%) were subdued by declining traffic in Bahrain.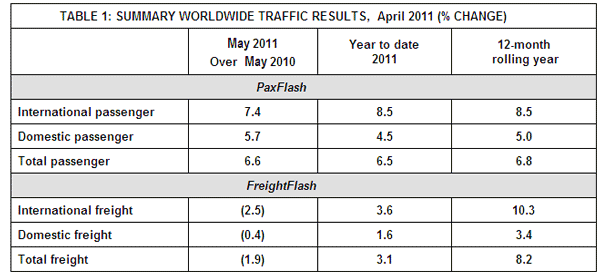 Air freight volumes declined slightly, with international freight down 2.5 per cent and domestic freight down 0.4 per cent. The Latin America-Caribbean region, however, showed strong growth, up 14.8 per cent. Closer analysis showed this number driven by a surge in growth at Brazilian airports, with Sao Paulo (GRU) up 33 per cent and Rio (GIG) up nearly 32 per cent. Europe was the only other region in positive territory at 0.3 per cent. The Asia-Pacific region was down 5 per cent, with Hong Kong, Taipei and Seoul Incheon all declining by double digits.
ACI World's Economics Director Andreas Schimm commented, "We are encouraged by the continuing strong growth trend in passenger traffic. The decline in freight traffic is small in percentage terms and should be temporary as the corresponding period in 2010 represented the peak of the recovery. Most recent forecasts from the IMF predict robust GDP and trade volume growth in excess of 4 per cent. Passenger and freight growth are expected to remain well above that figure for the remainder of 2011."