Rochelle Cameron named Deputy Director at Philadelphia International Airport
Posted: 16 June 2011 | Philadelphia International Airport | 3 comments
Rochelle Cameron, appointed Deputy Director of Aviation, Finance & Administration, at PHL…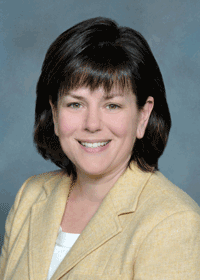 Rochelle Cameron, Deputy Director of Aviation, Finance & Administration, Philadelphia International Airport (PHL)
Rochelle Cameron, an aviation and financial professional with more than 20 years of experience in financial and business management, has been appointed Deputy Director of Aviation, Finance & Administration, at Philadelphia International Airport (PHL) effective June 20th.
Ms. Cameron replaces Edward Anastasi, who retired after 33 years in the Airport's Finance unit, including 13 years as Deputy Director of Aviation.
A native of Southwestern Pennsylvania, Ms. Cameron comes to PHL after nearly 13 years with the Metropolitan Washington Airports Authority (MWAA), which is responsible for operating and maintaining Ronald Reagan Washington National Airport, Washington Dulles International Airport and the Dulles Toll Road, as well as constructing a 23-mile extension to the existing Washington DC Metrorail system.
During her tenure at MWAA, Ms. Cameron oversaw Finance and Administration at Washington Dulles, the Inter-Terminal Concession Program at Reagan National and the Financial Management Division at Dulles. Most recently, she was the manager of financial strategy and analysis where she directed the issuance and management of a $6.5 billion debt program and oversaw strategy development for the Airports Authority and the production of activity dashboards, performance benchmarking reports, and other financial and operational reports, statistics and analyses. Ms. Cameron and her team orchestrated the inaugural issuance of Dulles Toll Road Revenue Bonds, which received the Bond Buyer Deal of the Year award.
"I am very excited to welcome an aviation and business professional with Rochelle's experience and expertise to our executive leadership staff at Philadelphia International Airport," said Airport CEO Mark Gale. "Rochelle brings a wealth of knowledge and skill to us, and she will be a valuable asset to our organization as we plan for the future."
Ms. Cameron's experience includes seven years as an active duty officer in the United States Air Force and one year as an Air Force civilian employee. As an Air Force Officer and civilian employee, Ms. Cameron led various financial management, protocol and training offices.
She rose to the rank of Captain while on active duty, and served at Maxwell Air Force Base in Montgomery AL; Incirlik Air Base, Turkey; the Pentagon; and Bolling Air Force Base in Washington DC.
Ms. Cameron holds a Bachelor of Arts degree in Political Science with a special concentration in economics and philosophy from the University of Notre Dame and a Masters degree in Business Administration with a concentration in Finance from Auburn University at Montgomery. She is a Certified Public Accountant in the Commonwealth of Virginia and a member of the American Association of Airport Executives and the Government Financial Officers Association.
Related airports
Related people