ACI recruits Director Communications & Events
Posted: 8 June 2011 | Airports Council International (ACI) | No comments yet
ACI has appointed Cheryl Marcell as Director Communications & Events at ACI World Headquarters in Montreal, Canada…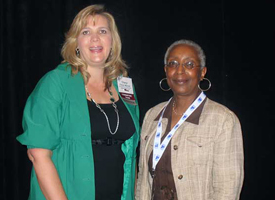 Cheryl Marcell (left) and Angela Gittens (right)
Airports Council International (ACI) has  appointed Cheryl Marcell as Director Communications and Events at ACI World Headquarters in Montreal, Canada. She will join the organization as of 1 August 2011.
She currently works for the Sacramento County Airport System, in California, USA, where she has served as Deputy Director for Marketing and Public Relations since 2000. In this role she has been responsible for air service development, legislative activity, media relations, public relations, public art programme and all marketing projects for the four airports in the Airport System. Under Marcell's leadership, the airport system has won several local media and communication awards and is widely recognized as an economic engine and a valuable regional marketing partner. Addressing airport issues on a national stage, Marcell served as the Chair of the Marketing and Communications Committee for Airports Council International – North America in 2009. She has prepared and delivered numerous speeches at many ACI seminars and conferences on topics such as crisis communications, customer service and airport branding.
Marcell comments on her recent appointment, "I am thrilled to be joining such a prestigious organization as Airports Council International. Strengthening the voice of the world's airports and planning and executing high quality educational events worldwide is a challenge that I accept with great enthusiasm. Our airport in Sacramento has very close ties with ACI World and the ACI North America Region, so I have a good working knowledge of the mission and values of our professional trade association. I look forward to working on all our initiatives on behalf of our airport members."
ACI World Director General Angela Gittens welcomes Marcell to the management team, "We are delighted to have attracted such a high calibre professional who is not only an accredited International Airport Professional (IAP), but has also volunteered much of her time and talent to ACI from her current position in Sacramento. We searched far and wide for the right person to fill the gap being left by Nancy Gautier, our long-term Director of Communications who declined to relocate to Montreal for family reasons, and Cheryl is very much that right person."
Marcell's professional qualifications encompass association management, public relations/marketing and trade show management positions with private sector employers in California and Texas. She has been active in the Sacramento business community, serving ex-officio on the Board of Directors for the Sacramento Convention and Visitors Bureau. A strong supporter of destination marketing programmes in the Sacramento region and a major participant with the hotel and visitor organizations, Marcell has also been active at the state-wide level on the Board of Directors for the California Travel Industry Association.
A graduate of the University of the Pacific, Marcell received a Rotary International Foundation Ambassadorial Scholarship to study in Lyon, France. In 2008 she enrolled in the ACI-ICAO sponsored Airport Management Professional Accreditation Programme and was awarded the International Airport Professional (IAP) designation in November 2010.