March passenger traffic rises by 2% worldwide
At the official opening of the new ACI World headquarters in Montréal this week, Director General Angela Gittens announced global traffic results for March…
At the official opening of the new ACI World headquarters in Montréal this week, Director General Angela Gittens announced global traffic results for March. As anticipated, the impact of natural disasters and a sharp drop in North Africa traffic (-18%) due to political events dampened overall results, which rose by just 2% globally compared to March 2010. For the first quarter 2011, global traffic rose by 4% compared to first quarter 2011.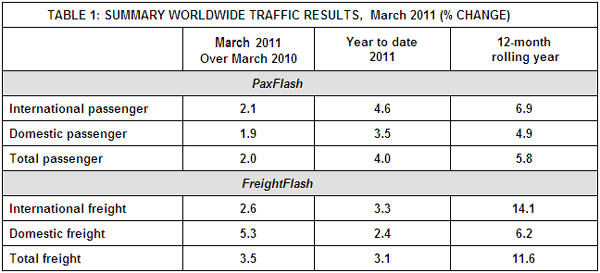 Gittens commented, "We admire the resilience of our affected members who have worked diligently to maintain vital airport services despite the magnitude of natural disasters and the impact of political unrest. We will be supporting them and working with them to assist in any way that we can as they re-build their facilities."
Following the devastating earthquake and tsunami in Japan, Tokyo Narita passenger numbers declined by 29% while Haneda reported 19 %fewer passengers. Political uncertainty was the cause of extensive declines in Egypt, Tunisia and Bahrain. In Egypt, Cairo lost 37% of passengers compared to last year. Sharm-el-Sheikh (-68.5%) and Hurghada (-79%) were hit the hardest by tourists staying away almost entirely from Egypt. In Europe, Athens (-16%) continued to take the brunt of the national economic crisis.
Although a third of the airports in the monthly PaxFlash sample saw declining passenger volume, overall growth in most regions was positive. (see Table 2) For the month, Latin America-Caribbean reported the strongest growth (10%) and overall traffic in Asia-Pacific, Europe, Middle East and North America remained positive as well. Growth continued robustly in India, Brazil, Turkey and Russia.
Freight growth stabilized after a weak February registering 3.5 percent total growth for March. (Regional freight results are presented in Table 3) Domestic growth was the driver with strong increases in Asia Pacific (6.7%) and North America (+5.5%). Freight worldwide grew by 3.1 percent in the first quarter of 2011.
Commenting on the long term outlook, Gittens said, "The good news is that for many markets, the traffic outlook is holding to expectations and steady growth is a reality. With traffic rising significantly over the next few years, we will be called upon to satisfy our airline customers' infrastructure needs while at the same time enhancing safety, security and efficiency. Airport development thus remains a critical exercise in our industry which is capital intensive and characterized by long lead times for approvals and execution."
Gittens sees the move to Montreal as an exciting opportunity to forge strong collaborative partnerships at ICAO that will better enable the association to serve its 1650 members worldwide. She called on aviation partners to enhance cooperation, "Airports are an economic pillar for the communities we serve. Community expectations are our guide in business development, and industry cooperation will be our platform to deliver on those expectations. We must see ourselves as a whole and well-integrated aviation system serving the consumer, not as separate sectors acting sequentially."
Gittens concluded the inaugural session with thanks to Montréal International, whose support, and through the organization the support of the entire Montréal community, provided invaluable assistance in relocating to Montréal.