New control tower is another successful step forward
Southend Airport's brand new, state of the art Control Tower is now fully operational…
Southend Airport's brand new, state of the art Control Tower is now fully operational.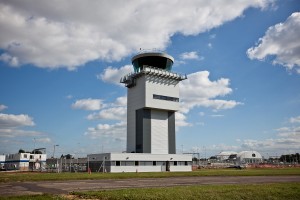 The original tower was erected in the 1960's and was only intended to be a temporary structure. Its 32-metre high replacement has been equipped with the very latest technology and provides Air Traffic Controllers with greatly improved views of the runway – it also boasts conference and training facilities.
Local and UK-based firms have been central to the £3 million project, with Romford's Readie Construction commissioned to undertake the principal build work, whilst Surrey-based Systems Interface Ltd installed the electronic logistics systems. Finally, the Air Traffic Control team spent several months undertaking familiarisation and essential training in the new building.
As part of the development of the airport and the expected increase in traffic, recruitment is now underway for another Air Traffic Control Officer. The airport offers a training programme for Air Traffic Controllers, which usually sees staff joining as assistants prior to taking part in a 3-5 year development programme, culminating in their becoming fully qualified radar controllers. The airport has seven staff currently at varying stages of development programme, with further staff scheduled to join soon.
The airport's Managing Director, Alastair Welch says "The completion of the new control tower is another successful step forward in Stobart Air's investment and development programme to enhance the airport – along with the new terminal, train station and forthcoming hotel. It will not be long now before we are providing a whole range of opportunities for local people to fly to a range of holiday and business destinations across Europe."
Related airports
Related people