Stansted Airport has been named 'world's best low-cost airport' at the 2011 World Airports Awards
The UK's third busiest airport scooped the best in category prize in the annual Skytrax airport customer survey…
The UK's third busiest airport scooped the best in category prize in the annual Skytrax airport customer survey, based on the feedback of 11.38 million passengers, across 100 different nationalities and covering 240 airports worldwide.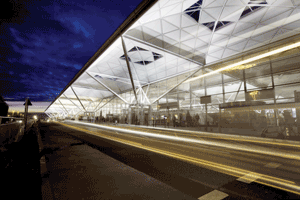 Welcoming the award, Nick Barton, Stansted's Managing Director, said:
"I'm absolutely delighted Stansted has been named as the best low-cost airport in the world, especially as the award is decided by those who matter the most – the passenger.
"Stansted is firmly established as a world leader at serving the low-cost airline sector that has transformed air travel. We have a route network that stretches to around 150 destinations with Stansted now offering more direct scheduled European flights than any other airport in the world.
"We are extremely proud Stansted is home to airlines such as Ryanair, easyJet, germanwings and airberlin, plus AirAsia X, one of the new breed of long-haul, low-cost airlines. These are some of the most profitable and innovative airlines in the world, operating modern and efficient aircraft fleets, and who continue to grow and open new markets. It's thanks to the help and support of our excellent airline partners that we have gained this global honour and recognition.
"The airport has just celebrated the 20th anniversary of HM The Queen opening our iconic terminal building in 1991. This award is a fitting tribute to the world class airport infrastructure developed by Lord Foster that has been brilliantly complimented by the modern efficiencies and technological improvements achieved by the low-cost airline sector."
Related airports
Related people