Stansted's iconic terminal celebrates 20th anniversary
Stansted Airport is today celebrating the 20th anniversary of Her Majesty the Queen officially opening one of the world's most iconic terminal buildings on 15 March, 1991…
Stansted Airport is today celebrating the 20th anniversary of Her Majesty the Queen officially opening one of the world's most iconic terminal buildings on 15 March, 1991.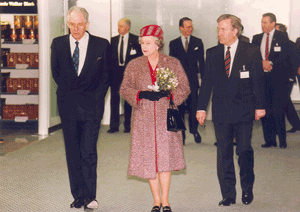 Since the first flight departed to Glasgow four days later, over 250 million passengers have passed through the Lord Foster designed structure on over 2.5 million flights.
The new terminal launched a new era for airport buildings, combining the use of natural light, increased height and space and ease of access to create a calmer, more comfortable and simpler airport experience for passengers that has now become the norm around the world.
The past two decades have also seen the terminal play host to a wide range of events and celebrities, including Hollywood films, numerous TV programmes and adverts, a congregation of 1,500 people for a recording of Songs of Praise and even a baptism in the terminal's chapel.
In addition, over 140 of BAA's current 1,300 staff have proudly worked at the airport for the full 20 years of the terminal's life, with many more repeating the feat at the other 200 on-airport companies.
Nick Barton, Stansted's Managing Director, marking the milestone, said:
"Stansted's iconic terminal building is a fantastic triumph for great British design and engineering and helped create a new era of innovative airport construction and style that still provides the inspiration for new terminal developments all over the world.
"The terminal is the centre piece of the modern Stansted, and we are all extremely proud that the Lord Foster building is still as good today as it was when Her Majesty the Queen opened it 20 years ago.
"Stansted is now firmly established as a truly international gateway and an integral part of the vibrant community we proudly sit within and serve. This is in no small way thanks to our superb terminal structure.
"With exactly 500 days to the start of the London 2012 Olympics, I fully expect Stansted to play a leading role in welcoming thousands of overseas visitors to the Games. I am very confident that thanks to the hard work of our dedicated staff and our excellent facilities, including brilliant terminal infrastructure, Stansted will create a fantastic first and last impression the UK can be proud of."
Related airports
Related people