Innovative airfield ground lighting technology helps HKIA reduce costs and improve efficiency and win an award
Hong Kong International Airport's use of the world's first automated system to conduct scanning and inspection of airfield ground lighting (AGL), has won the International Airport Review inaugural Airside Operations Award.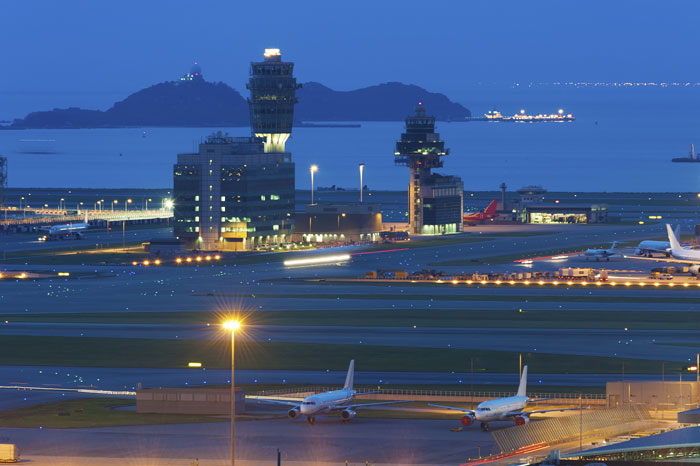 HKIA's installation of an automated airfield ground lighting scanning and inspection system (AGLSIS), has enabled the airport to reduce physical inspection time by a staggering 83 per cent. Jointly developed between the Airport Authority (AA) and D2V, the AGLSIS draws on image data to offer an intelligent solution for the airport to inspect lighting more frequently and within less time.
The system is comprised of an advanced high-throughput scanning machine installed on a rover as well as a remote computer server, and leverages techniques in big data processing and machine learning.
The highly accurate inspection results help to enhance runway safety, while its high-throughput inspection capability addresses the ever-increasing demands to accommodate for more aircrafts, passengers and cargo.
On receiving the award, Amen Tong, General Manager, Technical Services, Airport Authority Hong Kong, said: "We are honoured to be recognised by International Airport Review for our Airfield Ground Lighting Scanning and Inspection System (AGLSIS). This system provides us with an efficient tool to make the best use of airport's maintenance windows, enabling us to maintain runway safety with a shorter time to provide capacity to accommodate for more flight operations. Hong Kong International Airport aims to develop into a smart airport, and this intelligent system sheds a new and important light on how innovative technology can help improve on the operation efficiency."
Aircraft tyres repeatedly impose significant pressure and wearing on AGLs and change the surface conditions of the lights. Therefore, the AGLSIS is designed to mount on a vehicle, and perform high-throughput scanning and robust processing to identify defects on the lights.
The fast pace of airport operation is not uncommon around the world. Taking HKIA as an example, in every 53 seconds an aircraft arrived in or departed from HKIA in Y2016-17. The frequent inspection of AGLs is therefore necessary, but of course occupies the precious time for runway operations. As such, in line with HKIA's continuous commitment to strive for higher processing efficiency in airport operation, the AA and D2V jointly invented AGLSIS forms part of the continuous effort to help improve efficiency in airport maintenance. 
One of the comments from the judging panel was: "The AGLSIS demonstrates a very interesting application of machine learning and use of Big Data in maintenance, which has ultimately enabled costs to be reduced and efficiency to be optimised."
To read more about our other 2017 Award winners, click here
Related airports
Related organisations
Related regions