Planned drone restrictions welcomed by UK airport association
A drafted bill aimed at clamping down on the reckless use of drones will be published by the UK Government in spring.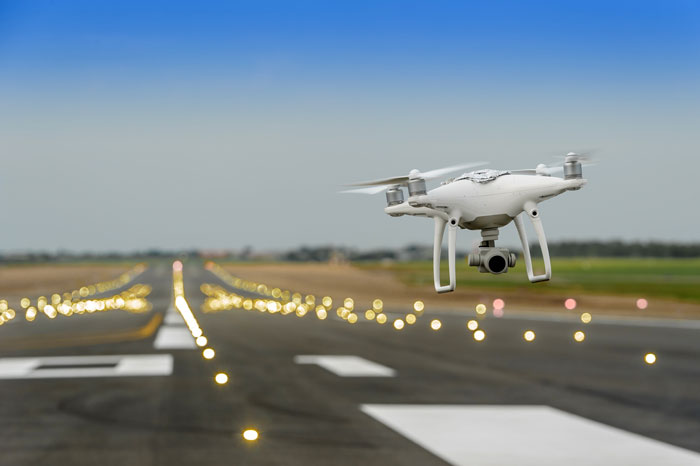 ATTACK OF THE DRONES: The proposed legislation would see users of drones weighing 250 grams and over having to be registered.
The Airport Operators Association (AOA) has welcomed British Government plans to introduce new laws concerning the use of drones. The proposed legislation may involve banning all drones from flying above 400 feet or near airports as well as giving police new powers to seize drones and making it mandatory for drone owners to register to improve accountability. The government will also be meeting with drone manufacturers to discuss the possibility of geo-fencing to prevent drones from entering restricted zones.
Chief Executive of the AOA Karen Dee said: "Drones are an exciting new technology that, if operated safely, are expected to bring many benefits to aviation and the UK as a whole. The draft Drone Bill to ensure that the growth in drone use does not endanger or disrupt civil aviation is welcome and we look forward to seeing the detail of the Bill next year.
"Enforcement will be vital for these new rules to be effective and any proposed extension of police powers needs to take into account resources to use those powers.
"The Government should proceed with introducing mandatory geo-fencing technology as soon as possible. This would safeguard critical airspace around airports from accidental drone incursions. We believe this is the most effective way to ensure that unsafe drone use does not have major consequences.
"It is crucial drone users are aware of risks and regulations around drones so they can use their drones responsibly. That is why the AOA supports the Drone Code, which is an important tool in raising awareness. We will continue to promote these and other initiatives to help drone users fly drones safely."
The news comes as funding for a pioneering new drones programme is announced to help cities shape the way this new technology operates and the benefits it brings.
Britain's Aviation Minister Baroness Sugg said: "Drones have great potential and we want to do everything possible to harness the benefits of this technology as it develops.
"But if we are to realise the full potential of this incredibly exciting technology, we have to take steps to stop illegal use of these devices and address safety and privacy concerns.
"These new laws strike a balance, to allow the vast majority of drone users to continue flying safely and responsibly, while also paving the way for drone technology to revolutionise businesses and public services."
The government will publish the draft Drone Bill for consultation and introduce secondary legislation amendments in spring 2018.