UK trade envoy hails role of aviation sector in Philippines' economic growth
The Head of the UK Prime Minister's Trade Envoy to the Philippines has hailed the role of the nation's aviation sector in driving 'massive national economic growth' over the next 20 years.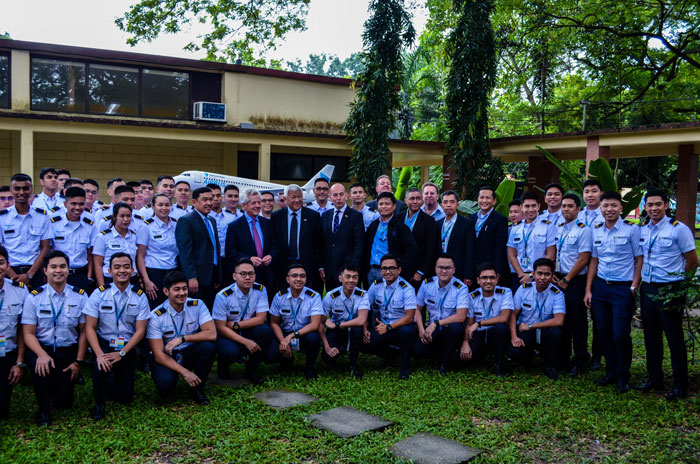 Speaking at Alpha Aviation Group, a leading pilot training provider based in Clark, Richard Graham MP said the Philippines was the 'premier aviation training hub in the region', adding that further aviation sector development at Clark would further the Philippines' 'huge competitive advantage'.
Mr Graham also praised Alpha Aviation Group's aggressive efforts in in catering to the growing training needs of the industry, as well as Alpha's 'Women in Aviation' advocacy. It is estimated that approximately just 3 per cent of the world's commercial pilots are women.
In response, Cristopher Magdangal, the General Manager of Alpha Aviation Group Philippines, highlighted the 'unprecedented' growth in air travel the region is experiencing, and reaffirmed the group's commitment to helping meet the current 'staggering demand for world-class airline pilots'.
Boeing has recently stated that by 2036, the Asia-Pacific region will need a further 248,000 commercial pilots to meet industry demand – over 40 per cent of the total global pilot demand.
Mr Magdangal added that Alpha Aviation will continue to regionally expand, with the vision of developing both the next generation of world-class pilots and aviation industry leaders.
The UK Trade Envoy's visit to Alpha Aviation came as part of a wider four-day official trip to the Philippines aimed at boosting trade and investment. In addition to Richard Graham MP, the UK Prime Minster's official Trade Envoy to the Philippines, members of the British delegation included the British Ambassador to the Philippines Daniel Bruce and Mike Moon, Director for the Department for International Trade.
They were joined at Alpha Aviation by Captain Jim Sydiongco, the Director General of the Civil Aviation Authority of the Philippines.
Following meetings and presentations with senior Alpha Aviation management, the delegation also spoke with some of the group's current batch of cadets and experienced landing an Airbus A320 in Alpha Aviation's Full Flight A320 Simulator.
Related topics
Related organisations