Overtaking on the curve
Difficult things we do at once, the impossible takes a little longer. This proverb could well apply to our range of belt curve conveyors; Caljan CurveTrack…
Difficult things we do at once, the impossible takes a little longer. This proverb could well apply to our range of belt curve conveyors; Caljan CurveTrack.This unique design has taken time to perfect, but the result is impressive.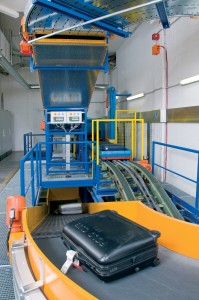 No other belt curve conveyor available today can be installed as easily. The modular design of Caljan CurveTrack means standard installation methods regardless of size. The conveyor can be adapted or upgraded to suit changing requirements.
Once installed, maximum up-time is assured – little risk of belt breaks and no danger of the belt tearing away from the retainer. The belt runs smoothly hour after hour, day after day, kept firmly in place by a combination of unique retainers and reinforced beading. The belt is sandwiched between the beading with a double row of stitching. The retainer bearings apply gentle pressure countering the pull of the belt towards the centre of the curve.
At some point it will be necessary to change the belt. Once again we've looked to the shortest possible turn-around time. One-piece belt retainers can simply be flipped open. The belt is released instantly. There are few loose parts to keep track of and little to adjust once the new belt has been positioned.
As with all Caljan products, the work environment is a prime consideration during the design phase. Caljan CurveTrack is characterised by multiple safety features including underguarding, finger guards, side guards, end covers and pop-out rollers. There are no pinch areas and minimal gaps when the curve is installed in a conveyor system. Very little noise is generated during operation and little cleaning and a minimum of maintenance is required.
A complete range for all applications
In addition to standard curves with a pulley diameter of 80 mm or 100 mm on the outside radius and angles of 45°, 60°, 90°, 120°, 180°, we can also supply helix curves. Turning a helix curve is a demanding task that can't be accomplished by all curve suppliers. With in-house development, engineering and production we are able to produce a helix that fits your application precisely.