Greater Toronto Airports Authority releases RFP for transit centre design
Easing road congestion in Southern Ontario to help facilitate the movement of people and goods to, from and around Toronto Pearson is a high priority for the Greater Toronto Airports Authority (GTAA).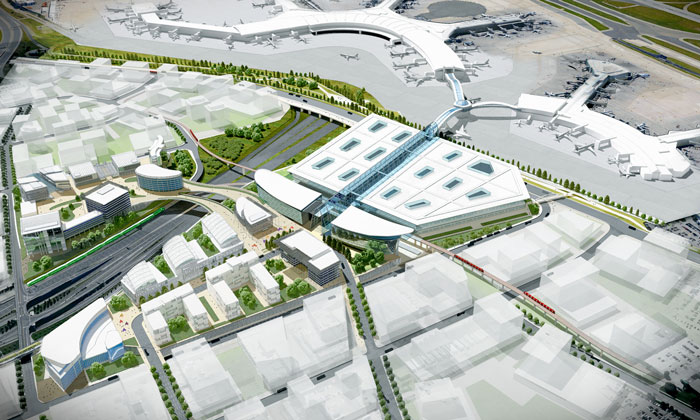 Research shows a growing demand for transit in the West Greater Toronto-Hamilton Area (GTHA), a region currently under-served by transit but experiencing rapid growth.
The West GTHA generates more than 4.5 million trips per day, representing 35 per cent of the GTHA's trips. Only seven per cent of these trips are by public transit. Moreover, greater than 60 per cent of transit trips require at least one connection, with more than 20 per cent requiring two or more.
Toronto Pearson has proposed a Regional Transit Centre located on airport grounds that will take advantage of the high concentration of travel demand generated by the airport and surrounding zone; provide an economically critical missing link in the regional transit system; connect people to economic opportunities in the AEZ; and provide networked transit service to many of the region's most disadvantaged communities. The proposed Regional Transit Centre will also stimulate ongoing, high-value economic activity beyond the AEZ, and support the reduction of greenhouse gas emissions and other pollution.
The GTAA has released an RFP for design consulting services for concept development of the Regional Transit Centre. The Regional Transit Centre is planned to be Phase 1 of further development on the site across Airport Road from current Terminals 1 and 3. Phase 1 is only the first step of Toronto Pearson's long-term infrastructure plan to deliver responsible growth of airport operations.