Dixons Travel becomes the latest addition to the LJLA retail offer
Leading airport electrical retailer Dixons Travel has opened a new store in the Departure Lounge at Liverpool John Lennon Airport giving passengers the chance to purchase the latest technology at online beating prices.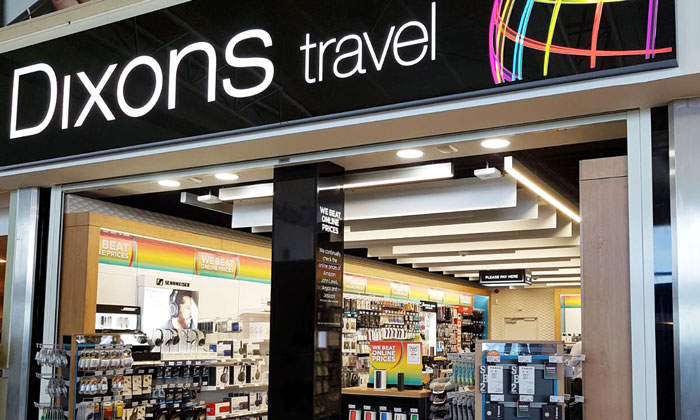 The new unit is located on the lower floor of the Departure Lounge and is the latest addition to a growing range of specialist airport retailers and High Street brands to choose to operate at the Airport.
Dixons Travel provide a wide range of world renowned and innovative technology brands in one place for passengers before they fly, with the latest gadgets available from the likes of Apple, Beats, Bose, Canon, Samsung, Microsoft, Monster and more.
In addition to being able to browse in store at the Airport, Dixons Travel also offer passengers the option to browse the best range of their technology products online, then reserve the item for collection and payment when they travel through the Airport.
Passengers can even shop in store to take advantage of Dixons Travel's online beating prices and have their products delivered to their home address ready for their return.
The new Dixons Travel store at LJLA will be open from 4 o'clock in the morning until 8pm at night every day of the week so that passengers departing on the first departures of the day to some of the last flights in the evening have the opportunity to take advantage of the great range of items in store.
Lucy O'Shaughnessy, Commercial Director at Liverpool John Lennon Airport, commented, "As one of the UK's leading airport electrical retailers this is a great addition to the growing retail offer we have at the Airport for our passengers. Great value products such as tablets, laptops, cameras and mobile phones have not previously been available for passengers flying from Liverpool and Dixons Travel has recognised this gap in the market to meet the needs of the growing numbers of passengers choosing to fly from LJLA."
Gavin Wood, Director of Operations, Development and Expansion at Dixons Retail commented: "We're looking forward to welcoming travellers to our brand-new Dixons Travel store in the Departure Lounge at Liverpool John Lennon Airport. Opening just in time for the main holiday season, we hope shoppers will enjoy picking up some of the very best value tech as they travel through the airport."