Southend Airport Wins Major European Award
London Southend Airport has won the prestigious ERA (European Regions Airline Association) Airport Achievement Award 2010…
London Southend Airport has won the prestigious ERA (European Regions Airline Association) Airport Achievement Award 2010.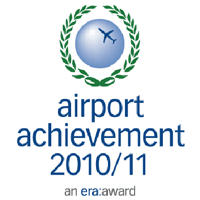 The award was created to recognise the best achievements by an ERA member airport over the previous 12 months and Southend's success is based on the positive role it has played in support of future intra-European air transport operations.
Beating off strong competition from other domestic and international airports, London Southend's collaborative work with the local community and relevant local bodies to secure planning permission for a runway extension, was hailed as a particular success.
The announcement was made during a prestigious award ceremony at the Catalunya Congress Centre, in Barcelona, Spain on Thursday 23 September. On announcing Southend as the winner, the Chairman of the Judging Panel commented – "This is a tremendous achievement (for Southend) and one which will have fundamental and long lasting effects on air transport in this region. The runway extension – when completed in 2011 – will greatly enhance the airport's business and will result in increased services for the community. The team involved is to be applauded for its astute approach in seizing the window of opportunity provided by the London 2012 Olympics and the professional execution of its campaign achieving planning permission for a runway extension, without a public inquiry. Determination and dedication were the drivers leading to the approval for the runway extension."
Airport Managing Director Alastair Welch said "We are delighted to win this award, which is testament to all the hard work that has been put in by the entire team at Southend Airport in making the plans for our development, a reality. It's an exciting time for the airport right now as we are now beginning to see all the developments we have been planning and working towards finally starting to happen. This award from Europe's leading Airline Association demonstrates with the interest that there is in Southend's future and the role the airport can play in further regeneration of the area."
Find out more about ERA and the Airport Achievement Award at www.eraa.org
Related airports
Related people