London Luton Airport finds that the Street King 660 ticks all the boxes
London Luton Airport has found a newly-delivered Street King 660 truck mounted sweeper from Peterborough-based sweeping specialist, Aebi Schmidt.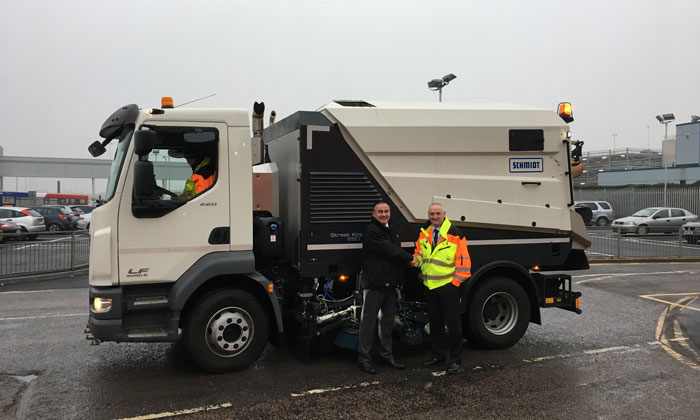 London Luton Airport (LLA) bought the new the state-of-the-art Street King 660 late last year to sweep the airport's terminal frontage, car parks and roadways as part of a move to improve the appearance and image of the airport from a user perspective.
Head of Airside, Liam Bolger, who has total responsibility for all airside operations at LLA, including runway inspections, stand planning, summer and winter operations and all safety aspects, said the Street King had proved ideal for the task it was selected for.
"We have a relationship going back almost 20 years with Aebi Schmidt and already use one of their runway sweepers and a Swingo, so we knew the levels of reliability and customer care we could expect with the Street King.
"We wanted a medium-size sweeper that was manoeuvrable, easy to operate and which looked good around the front of the airport from a passenger point of view. The Street King has ticked all our boxes.
"The team love it, it's very easy to drive and to operate, thanks to the ES control panel, and it has certainly proved man enough to tackle our car parks, roadways and frontage," he added.
"We wanted a medium-size sweeper that was manoeuvrable, easy to operate and which looked good around the front of the airport.."
Launched last summer, the Street King is designed to fit any standard two-axle sweeper chassis, and has already attracted orders from new and existing customers who have been won over by its stunning array of special features and stand-out USPs, faster working times and lower operating costs.
It is also extremely operator friendly thanks to Aebi Schmidt's cutting-edge ES control panel which, through a highly visual 7in touch screen, is not only easy to use, intuitive and completely flexible, but its simplicity reduces training to a minimum.
Richard Bryant, Managing Director of Aebi Schmidt UK, said:" Naturally, we are delighted that LLA has found our new Street King to be the perfect tool for the job in keeping its car parks, roadways and terminal frontage spick and span.
"With the Street King, we have a compact, flexible design, high hopper capacity, clean engine technology and superb driver comfort which combine to deliver our over-arching objective of making it as easy to operate as possible from a driver point of view.
"The new Street King 660 sweeps faster, misses less, works longer and allows the operator to drive faster, making  it the perfect partner for tackling a job of this nature – as the team at LLA has now discovered." he said.
To read International Airport Review's extensive coverage of the Luton expansion, click here…