Emirates SkyCargo appoints Ross Barnett as UK Cargo Manager
Emirates SkyCargo, the freight division of Emirates, has announced the appointment of Ross Barnett as Cargo Manager in the UK.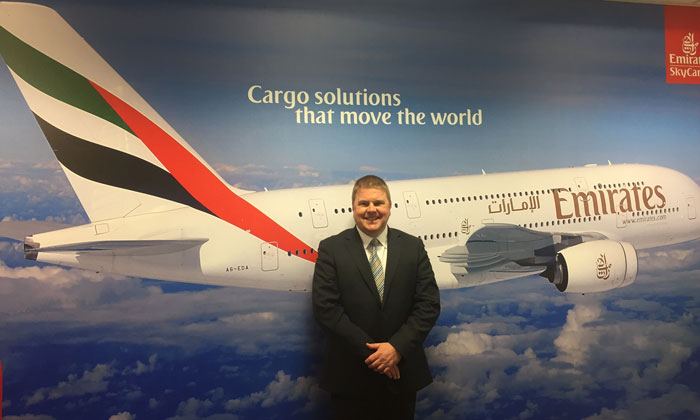 Ross, who will now be based in London, has over 30 years' experience in the cargo industry. He joined Emirates in 1995, holding a number of positions in the company, most recently Cargo Manager for Northern England and Scotland where he was responsible for over 20 staff based in the region.
IATA figures reveal that in December, Emirates SkyCargo exported a larger volume of cargo from the UK than any other airline
In his new role, Ross will oversee the 45 staff that Emirates SkyCargo employs in the UK, as his remit expands to encapsulate the whole of the UK, driving sales growth and ensuring operational excellence. He will oversee the cargo operations for the 18 daily passenger flights that travel between the UK and Dubai each day, alongside the two additional freighter services from Heathrow.
In December 2016, IATA stats showed that Emirates SkyCargo carried nearly 5,700 tonnes of cargo from the UK, up 29% on the same period last year.
This was the first month that Emirates SkyCargo exported a larger volume of cargo from the UK than any other airline. Indeed, the total cargo volume flown by the UK arm of Emirates SkyCargo between January 2014 and December 2016 was nearly 190,000 tonnes.
In order to cater for the ever-increasing demand for its operations, Emirates SkyCargo has recently developed a number of specialised offerings for its business verticals.
Developments include launching Emirates SkyPharma, a specialised offering for temperature sensitive pharmaceuticals, and Emirates SkyWheels, for the transportation of luxury cars.  Emirates SkyCargo is also the first cargo airline in the world that has obtained GDP certification for its hub operations covering two airports, Dubai International (DXB) and Dubai World Central (DWC), and the 24/7 bonded trucking service that connects cargo between them.