Brussels Airport and Miami International Airport launch new pharmaceutical focused organisation: Pharma.Aero
Brussels Airport (BRU) and Miami International Airport (MIA), the first and second International Air Transport Association (IATA) designated pharma hub airports in the world, respectively, have taken the initiative to create Pharma.Aero, a new organisation focused on improving pharma handling and quality in the air cargo industry worldwide.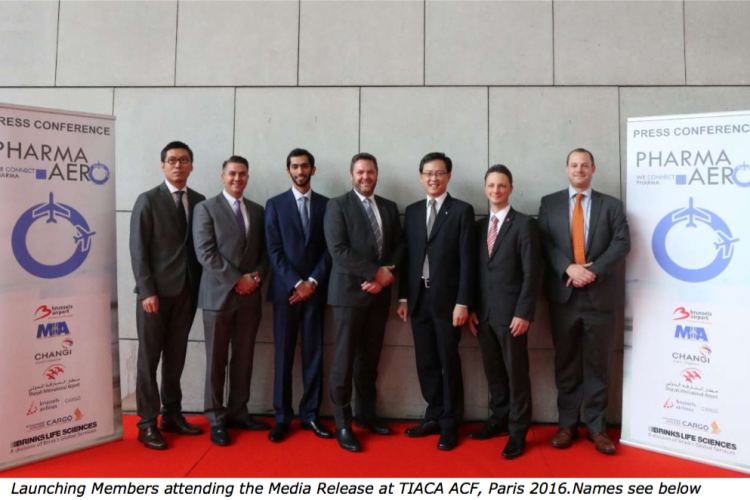 Nathan De Valck, Chairman of Pharma.Aero, said "With the vision to achieve a reliable end-to-end air transport for pharmaceutical cargo, Pharma.Aero will focus on pharmaceutical shippers and all industry stakeholders who embrace the IATA CEIV program. Members of the organization will foster route certification/development of pharmaceutical trade lanes, implementation of best practices and sharing of market knowledge and expertise".
Along with the Founding Members, BRU and MIA, other stakeholders of the air cargo supply chain have also joined the organization. Singapore Changi Airport (SIN) is the first airport in Asia to join Pharma.Aero as a Strategic Member. Also, Sharjah International Airport (SHJ) is the first airport in the Middle East to join as a Strategic Member.
Other members who have joined include Brussels Airlines, Singapore Airlines, and Brinks Life Sciences.
Pharma.Aero welcomes airport communities, airline carriers, logistics companies, and other pharmaceutical stakeholders including shippers to become members.
Pharma.Aero has received endorsement letters from several pharmaceutical shippers, including MSD, UCB and Pfizer. They welcome the initiative and will give their guidance and active support in the projects with the other members.
Steven Polmans, Head of Cargo at Brussels Airport, adds to this: "in the past 4 years we have been working closely with pharma manufacturers, which has resulted in the first CEIV pharma community certification with 18 local BRUcargo based partners. We now want strengthen our approach by bringing it on a global level to create end to end solutions for the pharma industry. Pharma.Aero will be content focussed, developing solutions and creating transparency in close co-operation with the pharma industry".
Dr. Emilio T. Gonzalez, Director of the Miami-Dade Aviation Department which operates MIA adds – – "As the busiest U.S. airport for international freight, perishable imports and temperature-controlled products, MIA seized the opportunity to further grow its local pharmaceutical transport industry by engaging its cargo community in the IATA CEIV Pharma Certification Program. In the process, we became the first IATA-designated pharma hub airport in the U.S. Today marks an important day for MIA, as we shift our efforts towards collaborating with other pharma stakeholders around the world through Pharma.Aero."
Lim Ching Kiat, Managing Director, Air Hub Development, Changi Airport Group, said, "Pharmaceuticals is among our fastest growing cargo segments, registering a 19% year-on-year growth in the first nine months of 2016. We are also the first airport in Asia to embark on a community approach for IATA CEIV Pharma. With Changi Airport's strong connectivity and facilities, Singapore is well-positioned to be the preferred gateway for pharma cargo in Asia. Our participation in Pharma.Aero will further strengthen our capabilities to handle pharma cargo and enhance the pharma supply chain in Singapore."
Mr. Glyn Hughes, Global Head of Cargo, IATA, confirms: "IATA congratulates the Pharma.Aero collaborative initiative that unites around the central theme of linking CEIV certified entities and trade lanes to improve industry logistical networks to achieve supply chain excellence. Such joint program enhances the Air Cargo industry's value proposition and adoption of global standards in transporting time and temperature sensitive pharmaceuticals. Ensuring patient safety throughout the logistical journey is a collective responsibility and this is a great demonstration of that ideal."
Related topics
Related organisations