Beijing and Sydney Establish Sister Airport Relationship
Beijing Capital International Airport Co, Ltd and Sydney Airport Corporation Limited yesterday established a sister airport relationship…
Beijing Capital International Airport Co, Ltd and Sydney Airport Corporation Limited yesterday established a sister airport relationship.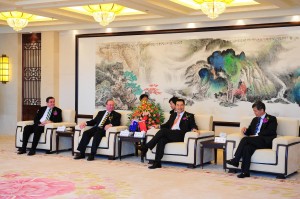 At a ceremony held in Beijing a formal Memorandum of Understanding between the two airports was signed by the President and Chief Executive Officer of Beijing Capital International Airport, Mr Zhang Guanghui, and the Chief Executive Officer of Sydney Airport, Mr Russell Balding.
The two airports are major drivers of economic development for their respective cities and are major generators of economic activity, investment and employment. Airports are essential parts of the global aviation network that all successful modern economies rely on.
Russell Balding said that co-operation is at the heart of the Sister Airport Memorandum of Understanding.
"It is about building a win-win relationship through a culture of collaboration and knowledge sharing. More than anything else, innovation comes from sharing insights and knowledge, by learning from the experience of others, and building on the wisdom of your peers.
"The Memorandum of Understanding foreshadows joint airport management seminars, staff training and exchange, and project cooperation. The outcome of this win-win relationship will be better airports for the travellers of Beijing and Sydney," Mr Balding said.
Dr Dong Zhiyi, Chairman of Beijing Capital International Airport said both Sydney Airport and Beijing Airport are the national gateways to their respective country.
"We believe that it is good to our mutual interest if we establish the beneficial cooperative relationship, face the challenges and opportunities together, and foster the future development. We sincerely hope that with this relationship, the two airports could share knowledge and experiences in airport operations and management."
Beijing Capital International Airport is the busiest airport in Asia and was the third busiest airport in the world in 2009. Sydney Airport is Australia's national gateway and has served the travellers of Sydney continuously since 1920 – making it one of the oldest and most experienced airports in the world.
In 2009 Beijing handled more than 65 million passengers while Sydney handled 33 million.
Related organisations
Related people