OCS provides smooth transit for passengers with reduced mobility at Belfast International Airport
OCS has won the contract to provide services for PRM (passengers with reduced mobility) at Belfast International Airport…
OCS has won the contract to provide services for PRM (passengers with reduced mobility) at Belfast International Airport. The contract is for an initial three years and covers all aspects of PRM delivery both landside and airside. Up to 30,000 passengers with reduced mobility use Belfast International each year and OCS will be responsible for ensuring their smooth transit from arrival at the airport through to departure gates and onto the aircraft.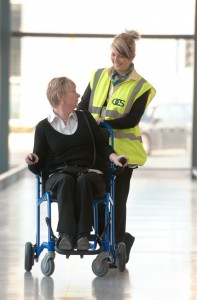 The transfer of staff to OCS will be supported by the company's induction training as well as disability confidence, kinetic passenger handling and ramp safety and driving training. Passengers will benefit from OCS' investment in new PRM equipment including wheelchairs, and ambi-lifts. New equipment will be backed by fast-flow procedures starting with a PRM reception desk at check-in where PRM passengers are welcomed and their requirements confirmed. Currently, 25% of PRMs are pre-advised and OCS has introduced the SITA communications system to assist airlines in supplying all pre-advised information.
"Belfast International Airport is in the process of a significant change programme and it is very exciting that OCS has been recognised as the PRM partner for the airport's long term business plans," commented Ed Bolton, OCS's Operations Director for Transport.
OCS has been providing services for passengers with reduced mobility (PRM) at UK airports since 1992. The company has over 40 years' experience of working in partnership with airports and airlines to provide a range of bespoke services, achieving improved standards and delivering value. OCS currently provides assistance to over 1 million passengers a year.