Aebi Schmidt Spring 2016 newsletter
Aebi Schmidt Issue 9 'Connection' newsletter for Spring 2016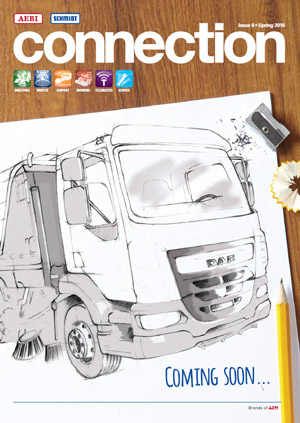 Aebi Schmidt Issue 9 'Connection' newsletter, Spring 2016
In this issue, we've compiled some of our favourite articles surrounding all the great things happening within sales and after sales which we hope you enjoy.
Read how our new initiatives – Aebi Schmidt Excellence in Aftersales and further development of our training team with our Master Technicians Project, will ensure we are constantly improving our offering to our customers and upholding the TLC ethic we all work towards.
We've had great success in Scotland thanks to working with Double A and have supplied a number of our walk behind mowers (Aebi CC66) into a prestigious customer, as well as success working in partnership with Gullivers Truck Hire for the hire of Spreaders into a customer in Wales.
Meanwhile life in a Northern town and life as a Schmidt employee are reported on with interviews with Mark Howorth, Area Sales Manager for the North as well as a celebration of 40 fabulous years of service from Lorraine Bond!
Airports continue to be supported by our winter kit. Fast forward to page 9 to read about our 'Green' TJS – the world's first biogas towed jet sweeper.
The newsletter can be read in full by clicking on the image below: