Investment remains strong in global airport construction and expansion
A new report suggests investment activity in airport construction and expansion remains high in fast-growing regions of Asia-Pacific and the Middle East and Africa despite general sluggishness in the global economy.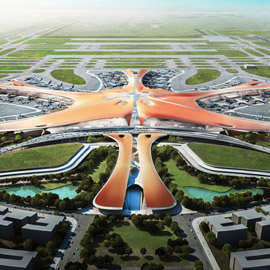 A study carried out by Timetric's Construction Intelligence Center (CIC), entitled 'Global Airports Construction Projects', has revealed growing investment in new airports and expansions continues to rise despite ongoing global repercussions from the financial crisis in 2008-2009. Opposed to other industries, airports have experienced an average 5 percent growth in passenger traffic since that time. In particular, construction activity remains high in fast-growing regions of Asia-Pacific and the Middle East and Africa. The two regions outpace other global regions, with total planned investment in airport mega-projects worth US$224.1 billion and US$172.0 billion respectively.
Total value of global airport construction projects worth US$638.7 billion
According to the CIC, the total value of airport construction projects globally is worth US$638.7 billion. The highest value project is the US$36.2 billion Istanbul New Airport project. The UK has the highest value project pipeline in Europe mainly due to the planned Heathrow Airport Expansion valued at US$29.1 billion. This project follows much debate over the requirements for extra airport capacity for London; however, the final go ahead for the project has not yet been given by the government.
China leads the way in Asia-Pacific region
The report reveals growth in Asia-Pacific airport construction is led by China, with a value of US$47.8 billion, followed by Vietnam, with total projects valued at US$28.7 billion. The increase in flights within China has made Beijing Capital International Airport the second busiest in the world. The new second airport planned for Beijing is the US$11.3 billion Beijing Daxing International Airport, which is due for completion in 2025. Although India is a high growth area, the value of airport projects is low compared to others in the region, such as China, Hong Kong and Vietnam.
Demand grows in Middle East and Africa
With Dubai being the world's busiest international airport and Saudi Arabia requiring more capacity to cater for the millions of pilgrims visiting every year, construction in the Middle East and Africa is following demand. An example of this is the US$32 billion Al Maktoum International Airport project which will be part of Dubai World Central. Once complete, the airport will provide a capacity of 220 million passengers to the UAE.
"Although South and Central America is lagging behind for value of projects, there is huge potential for the upgrade of its airports infrastructure"
Commenting on the report, Neil Martin, Manager at Timetric CIC, said: "Global airport projects' activity follows economic growth in the markets of Asia-Pacific and the Middle East and Africa. Both regions are registering new projects and the expansion of existing airports to service their growing economies and populations. Similarly, the developed markets of North America and Europe largely show expansion or renovation of existing airports such as London's Heathrow and O'Hare International Airport in Chicago. Although South and Central America is lagging behind for value of projects, there is huge potential for the upgrade of its airports infrastructure, with the new US$14 billion Mexico City project potentially providing a model for the region."
Related topics
Related organisations