airBaltic receives awards as the World's Most Punctual Airline
On Friday, February 5, 2016, three awards from OAG arrived in Riga for the Latvian airline airBaltic…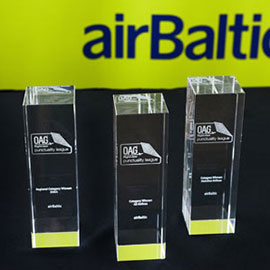 On Friday, February 5, 2016, three awards from OAG arrived in Riga for the Latvian airline airBaltic. As previously announced in January, OAG analysts, who tracked the performance of a total of over 50 million flight records, have ranked the Latvian airline airBaltic No 1 globally in punctuality in 2015, and awarded airBaltic in three categories – the world's most punctual airline, the most on time airline in the EMEA region and the first in mainline category.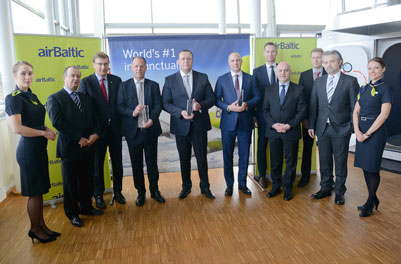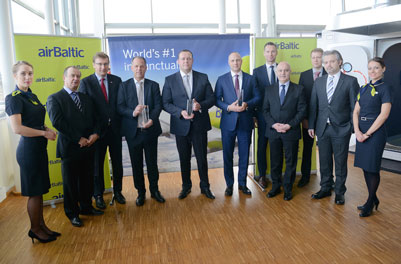 Martin Gauss, Chief Executive Officer of airBaltic: "Our customers can rely on a consistently punctual service. airBaltic team is extremely proud to have been ranked as the world's most punctual airline for the second year running. We have history of excelling in punctuality, but with around 94 flights out of 100 arriving on or ahead of schedule, we have managed to maintain our position at the very top for two years."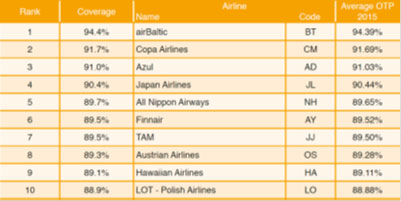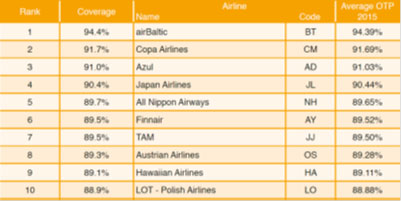 According to OAG, airBaltic achieved a punctuality rating of 94.4% for flights linking the Baltics with destinations in Europe, Middle East and Russia/CIS. It means that more than 9 airBaltic aircraft out of 10 arrive on time. airBaltic is followed in the global TOP 10 ranking by Copa Airlines, Azul, Japan Airlines, All Nippon Airways, Finnair, TAM, Austrian Airlines, Hawaiian Airlines, LOT.
airBaltic was the first airline in Europe to introduce on-time arrival guarantee in early 2009. This insurance allows airBaltic passengers to make the rare delays less inconvenient.
airBaltic serves over 60 destinations from its home base in Riga, Latvia. From every one of these locations, airBaltic offers convenient connections via Riga to its network spanning Europe, Scandinavia, CIS and the Middle East. In addition, airBaltic also offers new direct flights from Tallinn and Vilnius.
Full Punctuality League 2015 report can be found here:
http://info.oag.com/hubfs/Free_Reports/Punctuality_League/PunctualityLeagueReport2015.pdf