Emirates introduce Airbus A380 on routes to Washington D.C.
Posted: 13 January 2016 | Katie Sadler, Digital Content Producer, International Airport Review | No comments yet
Emirates airline has revealed plans to introduce its flagship Airbus A380 on routes from Dubai International Airport to Dulles International Airport, Washington D.C.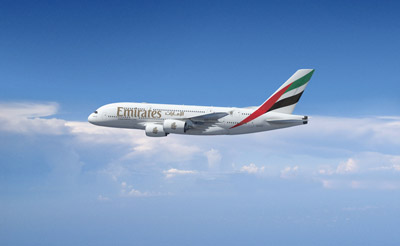 Emirates Airbus A380 will replace the existing Boeing 777-300ER used on the route daily from Dubai (DXB) to Washington D.C (IAD) from 01 February 2016. The implementation will aid growing customer demand and restore route capacity following United Airlines' planned withdrawal from the Washington D.C. to Dubai route after 25th January 2016.
Emirates Airbus A380 to replace existing Boeing 777-300ER 
Sir Tim Clark, President Emirates Airline said: "Our service to Washington D.C. has been one of our most successful and profitable routes, with high demand across all cabin classes. Despite strong seat load factors, United has made the decision to withdraw from the route. The additional seats offered by our A380 will therefore restore capacity on the route, and ensure that American consumers and international travellers wishing to visit D.C. for business or leisure will continue to be served. We look forward to offering the award-winning Emirates A380 experience to our customers, and to continue contributing to the economic success of the city and its surrounding regions."
Timings for the daily inbound/outbound flights on the Dubai (DXB) – Washington, D.C (IAD) route will remain unchanged. As of 1st February, flight EK231 will continue to depart Dubai at 2:20 A.M. daily arriving in Washington, D.C at 8:15 A.M. Timings for the return flight, EK232 will also remain unchanged, departing Washington, D.C. at 10:15 A.M., arriving in Dubai at 8:00 A.M. the next day.
Washington Dulles International Airport to receive $50 million investment
In addition to an aircraft upgrade on flights to Washington D.C., Dulles International Airport will receive an investment of US $50 million, recently announced by Virgina Govenor Terry McAuliffe, to make the airport more competitive. This funding is expected to help support direct and indirect jobs and encourage other airlines to enhance their services.