Frankfurt Airport ready for winter operations
Posted: 21 December 2015 | Katie Sadler, Digital Content Producer, International Airport Review | 2 comments
Although Frankfurt probably will not have a white Christmas this year, the Airport Winter Services team are prepared for winter operations when snowy and icy conditions arrive. Long before the first snowfall, the Frankfurt Airport (FRA) Winter Services team prepares for the upcoming winter season in extensive training periods with all-year-long theoretical training sessions. Starting […]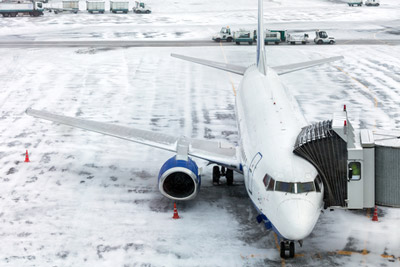 Although Frankfurt probably will not have a white Christmas this year, the Airport Winter Services team are prepared for winter operations when snowy and icy conditions arrive.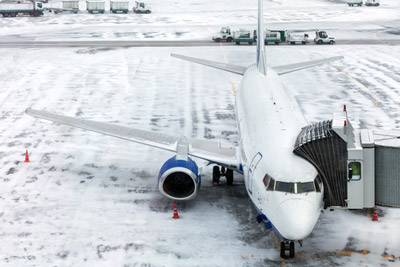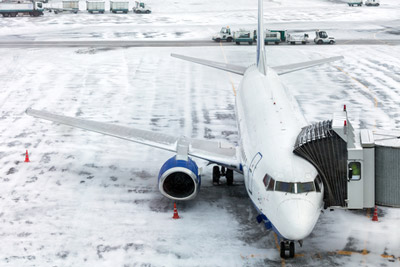 Long before the first snowfall, the Frankfurt Airport (FRA) Winter Services team prepares for the upcoming winter season in extensive training periods with all-year-long theoretical training sessions. Starting in summer, the Winter Services staff undergo practical operational runs on the apron to familiarise themselves with the various special-purpose vehicles and to study the clearing concepts for the runway system in depth.  Four full rehearsals in November ensure well-studied process flows and smooth operations.
Winter operations team responsible for 9.1 million square metres
For the current season, FRA's Winter Services team can call upon a team of 1,373 employees, who are available around the clock in a three-shift system. They are responsible for some 9.1 million square meters of operational areas at Frankfurt Airport. To help clear snow and ice, the Winter Services team relies on 319 specialised vehicles.  Some 3.1 million litres of ground and aircraft de-icing agent, 168 metric tons of granulated agent, 750 metric tons of salt, and 160 metric tons of sand are available for clearing the ice and snow.
When heavy snowfall occurs, FRA's Winter Services team is responsible for keeping not only the runways clear but also the taxiways and apron and other operational areas. Depending on the intensity of the snowfall, clearance can require from 30 minutes to more than 60 minutes per runway – during which time the runways cannot be used.  Snow and ice also have to be removed from the aircraft surfaces before planes can take off.  In addition, when visibility is impaired, the distances between individual planes must be increased during take-offs and landings.  Thus, the onset of winter weather can – despite all of the preparations and resources – lead to flight disruptions.  The safety of all participants, passengers and employees alike, is always of the utmost importance.  This is why the efforts of Frankfurt Airport's Winter Services team are so essential. 
Due to the mild weather so far this season the Winter Services team has not yet been actively deployed – only on standby duty 15 times.  Fraport's N*ICE subsidiary performed 509 aircraft de-icing operations.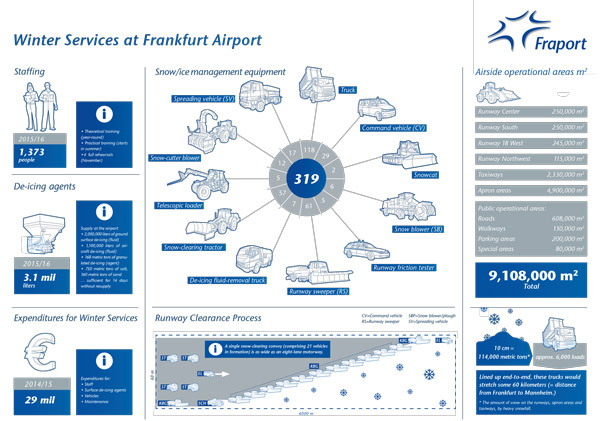 Related topics
Related airports