Frankfurt Airport launches personalised digital information & shopping platform
Posted: 11 December 2015 | Katie Sadler, Digital Content Producer, International Airport Review | No comments yet
Fraport AG, owner and operator of Frankfurt Airport, has launched a new personalised digital information and shopping experience via the airport website and app. Fraport AG's digitalisation strategy was established in response to changing customer requirements regarding airport information, assistance, services and shopping – particularly via various mobile digital devices.  Fraport's main innovations include the […]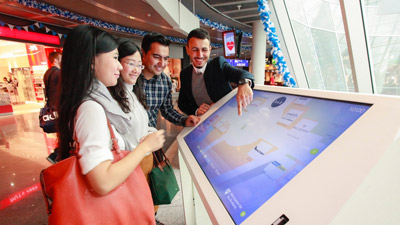 Fraport's mulitchannel initiative for Frankfurt Airport features online and in-store shopping, the FRA App and the Interactive Airport Desk.
Fraport AG, owner and operator of Frankfurt Airport, has launched a new personalised digital information and shopping experience via the airport website and app.
Fraport AG's digitalisation strategy was established in response to changing customer requirements regarding airport information, assistance, services and shopping – particularly via various mobile digital devices.  Fraport's main innovations include the introduction of an online shopping platform and the launch of a rewards loyalty program for passengers and visitors at Frankfurt Airport.
Digitalisation strategy at Frankfurt Airport in response to changing customer requirements
FRA passengers and visitors can now view the entire product range of participating airport shops online and conveniently reserve their products.  Orders can then be collected and paid for at the relevant shop. Future plans include the introduction of an online payment system and delivery of purchases – including mixed baskets from several different shops – directly to FRA's departure gates or even to the purchaser's home. 
According to Frankfurt Airport, 'the blend of online shopping and in-store retail is an attractive plus point for passengers.  They can look at and prioritize products in advance via the Internet or use the Frankfurt Airport App (FRA App), then view their chosen goods up close and take advantage of individual advice at the respective airport shopping outlets.'
The operator has also launched the "Frankfurt Airport Rewards" loyalty program, allowing passengers to enjoy benefits in return for purchases made via the online platform or directly in stores. Participants receive a bonus point for each euro they spend.
Commenting on the introduction, Fraport AG's executive board chairman Dr. Stefan Schulte said: "With our new shopping and information services, we are offering our passengers tremendous added value, which they can tap into at any time by using the airport's free Wi-Fi. In this way, we are improving the quality of stay and taking another step towards meeting our aim of offering top quality service."
Frankfurt Airport's shopping platform can be accessed here.
Related topics
Related airports
Related organisations