Detroit Metro and Willow Run Airports Win Cargo Awards
Both airports operated by the Wayne County Airport Authority, Detroit Metropolitan Airport (DTW) and Willow Run Airport (YIP), have captured coveted cargo awards in recent days…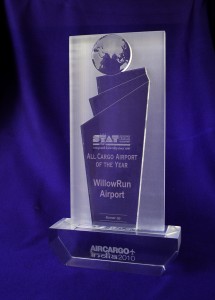 Both airports operated by the Wayne County Airport Authority, Detroit Metropolitan Airport (DTW) and Willow Run Airport (YIP), have captured coveted cargo awards in recent days.
"Air cargo is an often-overlooked, but critical segment in the business of aviation," said WCAA CEO Lester Robinson.
Willow Run received the "All Cargo Airport of the Year" award in a ceremony at the conclusion of the Air Cargo India 2010 event sponsored by STAT Times, publishers of Air Cargo Week. Preston Murray, CEO of Willow Run-based National Air Cargo collected the award in Mumbai on behalf of the Authority.
Willow Run's honor came just days after WCAA was notified that Detroit Metropolitan Airport won an "ACE Award of Excellence" in the fifth annual Air Cargo Excellence survey sponsored by Air Cargo World magazine in the category of Airports North America – 100,000 to 499,999 tons per year.
"The Award of Excellence is earned by achieving superior ratings in the key measurement areas of performance, value, facilities and operations," said Steve Prince Publisher of Air Cargo World.
"These awards underscore the importance of these two airports in terms of facilitating commerce in our region," said Wayne County Executive Robert Ficano. "As part of our international strategy, the Detroit Region Aerotropolis, anchored by these two air transportation facilities, will provide a tremendous opportunity to create jobs and economic prosperity for Michigan's future."
Related airports
Related organisations
Related people