Azul Brazilian Airlines adds daily flight from Orlando International
Azul Brazilian Airlines, Brazil's largest airline in relation to cities served, has added a new daily flight from Orlando International to Belo Horizonte, Brazil. Azul Brazilian Airlines offers more than 900 daily flights to 101 destinations, but this is the first-ever nonstop flight for this route. Belo Horizonte is Azul Brazilian Airlines second hub destination, […]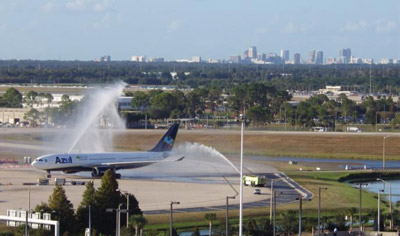 Azul Brazilian Airlines, Brazil's largest airline in relation to cities served, has added a new daily flight from Orlando International to Belo Horizonte, Brazil.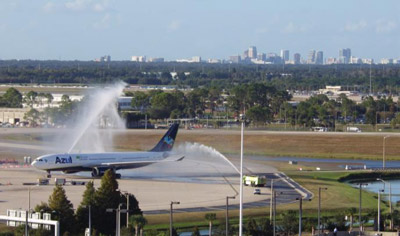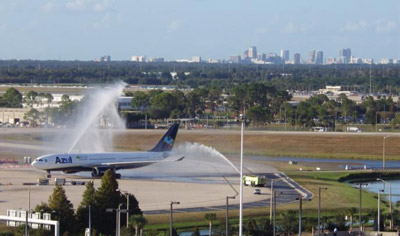 Azul Brazilian Airlines offers more than 900 daily flights to 101 destinations, but this is the first-ever nonstop flight for this route. Belo Horizonte is Azul Brazilian Airlines second hub destination, and will allow Orlando travellers to connect to more than 100 destinations. The new daily service will depart Orlando (MCO) at 6pm, arriving in Belo Horizonte at 5:32am the following morning. The return flight will depart Belo Horizonte at 10:18am, arriving at MCO at 4:15pm.
Azul Brazilian Airlines also operates daily flights from Fort Lauderdale to Miami and Orlando to São Paulo. Azul Cargo services are available in all international flights.
International traffic has increased by 32% in September at Orlando International Airport, and it is now the ninth busiest port of entry into the United States for non-resident arrivals, according to the U.S. Department of Commerce.
David Neeleman, Azul Brazilian Airlines Founder and CEO, said: "We're so excited to add this new service for the hundreds of thousands of Brazilians living in Central Florida and the millions in Brazil who love to visit Orlando. We're so grateful for the warm welcome Azul has received in Orlando and we look forward to welcoming US travellers to Belo Horizonte".
Related airports
Related regions