Airways New Zealand to provide Vietnam with ATC training
Airways New Zealand has signed two agreements with Vietnamese aviation authorities, to provide Vietnam-based students with air traffic control training and related services. Airways New Zealand is a world-leading commercial Air Navigation Service Provider (ANSP) and provides air traffic control, engineering training and has delivered Flightyield revenue management solutions, air traffic management, navigation services and consultancy […]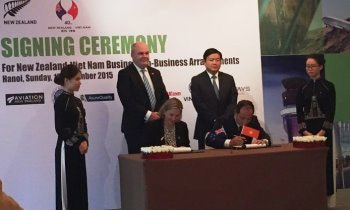 Airways New Zealand has signed two agreements with Vietnamese aviation authorities, to provide Vietnam-based students with air traffic control training and related services.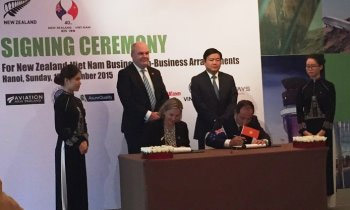 Airways New Zealand is a world-leading commercial Air Navigation Service Provider (ANSP) and provides air traffic control, engineering training and has delivered Flightyield revenue management solutions, air traffic management, navigation services and consultancy in more than 65 countries.
Airways New Zealand and VATM are committed to working together
The first agreement was announced by New Zealand Prime Minister John Key, during a trade delegation visit to Vietnam. The agreement is a five-year Memorandum of Understanding with Vietnam Air Traffic Management Corporation (VATM), which manages the country's air traffic from Ho Chi Minh City, Ha Noi and Da Nang.
The agreement confirms Airways New Zealand's role as VATM's preferred air traffic control training provider, including professional development. Airways New Zealand will also supply related training services, such as bespoke ATC candidate selection from Airways programme SureSelect, e-learning services, and Total Control simulators.  
The second agreement is an MOU with the Vietnam Aviation Academy (VAA), a pre-eminent aviation university in Vietnam, which will see the university's students completing ATC training in New Zealand as part of their Aviation Management degree. Susan Paterson, board chair for Airways New Zealand, signed both MOUs yesterday in a ceremony in Ha Noi.
In signing the MOU, Airways New Zealand and VATM have committed to work together for training related activities, with a long term vision to 2020.
Airways and VATM have reached an important milestone
Sharon Cooke, Head of Training at Airways New Zealand, welcomes the agreements with VATM and VAA, stating that they represent an important milestone in the company's long relationship with Vietnam.
"Airways' long and successful association with Vietnam started back in 1994 when we trained over 30 air traffic controllers in radar techniques. We have since held regular short training courses for Vietnamese customers, and we're about to start training 20 VATM students at our ATC training centre in Christchurch," Ms Cooke says.
"We look forward to assisting VATM meet air traffic growth estimated to reach 8.4% per annum over the next 20 years – that's nearly double the predicted world annual traffic growth of 4.6%," she adds.
For more information about Airways please visit www.airways.co.nz
Related topics
Related regions