Glasgow Airport opens £3.3m east pier extension
Posted: 1 September 2015 | Katie Sadler, Digital Content Producer, International Airport Review
The £3.3 million east pier extension at Glasgow Airport has been officially opened by Minister for Transport and the Islands Derek Mackay MSP. The extension opening follows a major renovation and improvement project to the main terminal building. In response to the airport's success in securing 22 new routes over the last 12 months the […]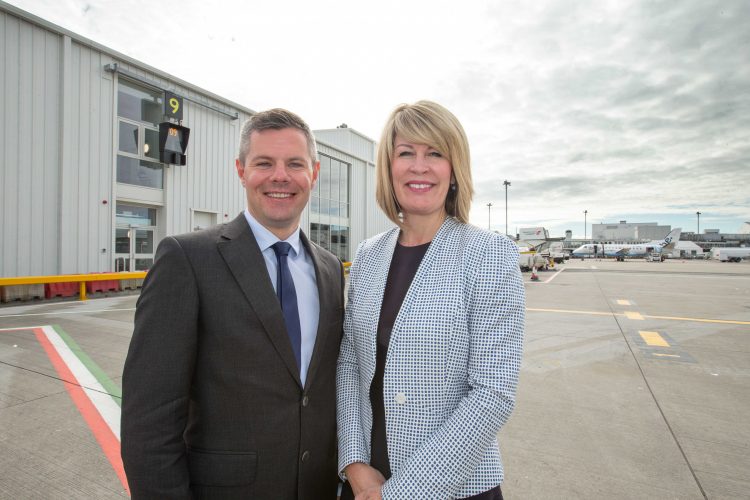 Transport Minister Derek Mackay unveils Glasgow Airports £3.3 Million East Pier extentsion.Also in the image is Amanda McMillian (MD of Glasgow Airport) For more details see press release Pic Peter Devlin
The £3.3 million east pier extension at Glasgow Airport has been officially opened by Minister for Transport and the Islands Derek Mackay MSP.
The extension opening follows a major renovation and improvement project to the main terminal building. In response to the airport's success in securing 22 new routes over the last 12 months the airport can now accommodate an additional 750,000 passengers each year.
The £3.3 million project, which was completed earlier this summer, has introduced a series of improvements to the main terminal building in response to the airport's success in securing 22 new routes over the last 12 months. The investment now allows Glasgow Airport to accommodate an additional 750,000 each year and accommodate more services to Lublin, Vilnius, Cancun, Barbados, Cuba and Milan.
The project, which began in November 2014, involved the construction of a two storey, 1,400 square metre extension to one of the airport's three piers.  As well as creating new boarding areas for passengers, it also brings the total number of Code E stands, which enable the airport to accommodate larger aircraft for long haul services, to six.
Additional improvements have included refurbishment of the international arrivals area, modernisations to the main check-in hall, the landscaping of a new public space at the front of the terminal and general improvements to the airport's road network.
Minister for Transport and Islands Derek Mackay said: "I'm very pleased to be here for the official opening of the East Pier Extension this morning.
"Glasgow Airport has attracted a number of new long haul services and this development will help build on that success.  Not only will it be able to accommodate bigger aircraft, but it will also provide improved facilities for departing passengers.
"The Airport has secured 22 new routes over the last year, and I have no doubt the new extension help them win more new services in the future.
"Of course, we could encourage airlines to operate more direct routes to and from Scotland by cutting rates of Air Passenger Duty, and I once again call on the UK Government to transfer the powers to the Scottish Parliament as soon as possible."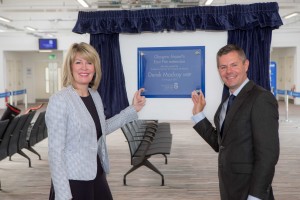 Amanda McMillan, managing director of Glasgow Airport added:  "2015 has been a fantastic year with the airport continuing to go from strength to strength. Not only have we launched a host of exciting new routes and services, we have also seen unprecedented growth in our passenger numbers and have also been classified as one of Europe's fastest growing airports for the first six months of 2015.
"It is a privilege to welcome Scotland's Transport Minister to the airport to officially open our new extension. The fact that this project was completed within a year of it being undertaken demonstrates the strength of our partnership working with construction firm Balfour Beatty.  Not only will this extension allow us to accommodate an additional 750,000 passengers a year, it has also created more space and better facilities for our customers to enjoy."
Related topics
Related airports