Half year EU airport traffic growth overtakes non-EU rate
Posted: 5 August 2015 | Katie Sadler, Digital Content Producer, International Airport Review
Report suggests EU airport traffic has more than doubled that of non-EU airports rising 4.5 percent during the first half of 2015. Figures released today by ACI EUROPE reveal strong passenger traffic growth at Europe's airports growing 4.5 percent in the first 6 months of 2015. Aircraft movements also rose 2.0 percent during the same […]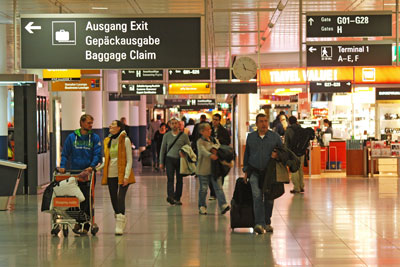 Report suggests EU airport traffic has more than doubled that of non-EU airports rising 4.5 percent during the first half of 2015.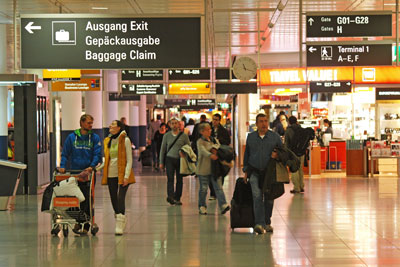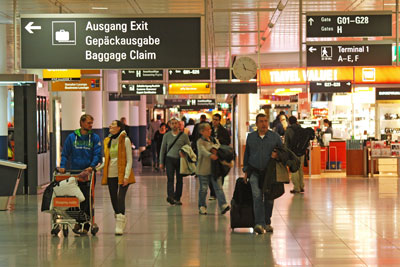 Figures released today by ACI EUROPE reveal strong passenger traffic growth at Europe's airports growing 4.5 percent in the first 6 months of 2015. Aircraft movements also rose 2.0 percent during the same period reflecting additional airline capacity in the market. Airports welcoming more than 25 million passengers per year (Group 1) reported an average adjustment of 3 percent growth, airports with between 5 and 10 million passengers (Group 2) recorded a 5.5 percent increase, airports measuring between 5 and 10 million passengers (Group 3) witnessed a 6.3 percent adjustment and airports welcoming less than 5 million passengers per year (Group 4) reported 5.5 percent growth during the first half of 2015.
In addition, Freight traffic across the European airport network grew 0.5 percent from January to the end of June 2015.
Olivier Jankovec, Director General of ACI EUROPE, said: "The first half of this year has seen solid passenger traffic growth for the European airport industry. However, where as recently as 18 months ago Non-EU airports were propping up weaker passenger traffic growth at EU airports, we are now through the looking glass. The situation has flipped and EU airports now lead the growth – reporting +5.1% during the first half of the year, compared with +2.3% at Non-EU airports."
He added "This reversed trend in passenger traffic growth is likely to stay for the rest of the year, mainly due to continued weakness in the Russian economy as well as the impact of lower oil prices on the Norwegian economy. Meanwhile, EU economies keep improving, in particular with the former bailed out economies of Ireland, Spain and Portugal surging ahead. Geopolitical instability and renewed terrorist threats in North Africa are also redirecting some leisure traffic to EU destinations. As for freight, the situation in Russia as well as slower growth in emerging markets is likely to keep constraining traffic performance."
The latest figures for June 2015 suggest a continuation of growth in the European market. Overall passenger traffic was up 3.2 percent, while freight was up 3.0 percent and movements increased 2.4 percent.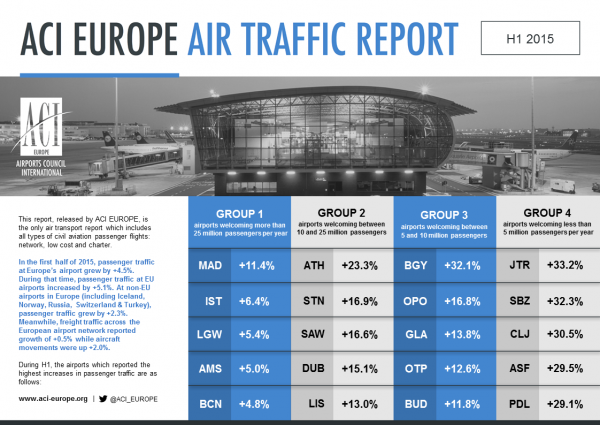 Related topics
Related organisations