SESAR delivers first Air Traffic Management Infrastructure Deployment Programme
Posted: 30 June 2015 | Katie Sadler, Digital Content Producer, International Airport Review
SESAR Deployment Manager formerly delivered the first Air Traffic Management Infrastructure Deployment Programme to the Directorate General for Mobility and Transport of the European Commission (DG MOVE). SESAR Deployment Manager (SDM) is a partnership which coordinates the modernisation of Europe's air traffic management system. The Deployment Programme has reached a significant milestone from the research […]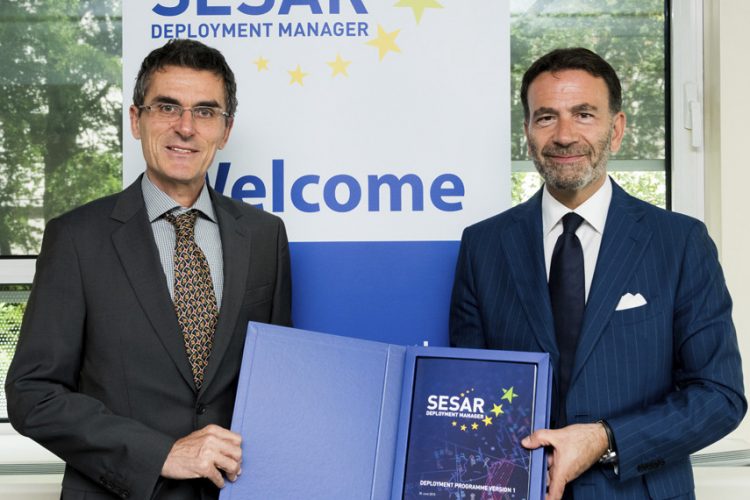 Maurizio Castelletti (left), head of DG MOVE's Single European Sky Unit, and Massimo Garbini, Managing Director of SESAR Deployment Manager.
SESAR Deployment Manager formerly delivered the first Air Traffic Management Infrastructure Deployment Programme to the Directorate General for Mobility and Transport of the European Commission (DG MOVE).
SESAR Deployment Manager (SDM) is a partnership which coordinates the modernisation of Europe's air traffic management system. The Deployment Programme has reached a significant milestone from the research and development phase to the implementation of European Air Traffic Management technology.
The €3 billion SEDAR Deployment Programme allows Air Traffic Management in Europe to be modernised within the Pilot Common Project, a European law covering six ATM functionalities that have to be implemented by European Union member states.
The SESAR Deployment Manager will coordinate and monitor the realisation of all implementation projects which are strongly supported with significant co-funding through the Connecting Europe Facility (CEF) Programme.
Massimo Garbini, Managing Director of SESAR Deployment Manager said: "Six months after the establishment of the SESAR Deployment Manager, Europe has today a unique, agreed and supported Air Traffic Management technological implementation plan which has been consulted on, and developed by the industry, for the industry.
"This Programme will lead investment plans by European Air Navigation Service Providers, Airports and Airlines and will provide Europe with a modern infrastructure which guarantees the development of a safe and efficient continental air transport system in support of our economy and the creation of jobs. Today the industry shows the maturity and commitment to deliver this Programme together."
Maurizio Castelletti, head of DG MOVE's Single European Sky Unit, added: "The Deployment Programme is an essential instrument for the SESAR deployment. It translates the priorities defined in the European ATM Master Plan's planning view and selected to be part of the Pilot Common Project into a coherent and coordinated project view. Operational stakeholders that will deploy the ATM functionalities of the Pilot Common Project are called upon to define and coordinate with the Deployment Manager proposals for projects to implement the Deployment Programme. The Commission is ready to support financially the best projects through the Connecting Europe Facility Programme."
Related topics
Related organisations