M.A.G appoints Ken O'Toole as Managing Director of Manchester Airport
Posted: 30 March 2015 | Katie Sadler, Digital Content Producer, International Airport Review
Manchester Airports Group (M.A.G) has today announced Ken O'Toole's appointment as the new Managing Director of Manchester Airport. Andrew Cowan has, for the last two years, overseen operations at Manchester Airport as Chief Operating Officer. Andrew will now take on the new role of M.A.G's Chief Strategy Officer and have responsibility for leading key strategic […]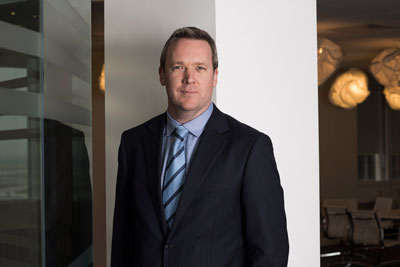 Manchester Airports Group (M.A.G) has today announced Ken O'Toole's appointment as the new Managing Director of Manchester Airport.
Andrew Cowan has, for the last two years, overseen operations at Manchester Airport as Chief Operating Officer. Andrew will now take on the new role of M.A.G's Chief Strategy Officer and have responsibility for leading key strategic initiatives designed to support the long term growth and development of the Group.
Ken who has been M.A.G's Chief Commercial Officer since 2012 will take up his new role with immediate effect.
Charlie Cornish, Chief Executive of M.A.G, said: "M.A.G has made remarkable progress over the past four years, and is now a fast growing airport services group with enormously strong prospects. Both Ken and Andrew have played key roles in that transformation process.
"Thanks to Andrew's leadership, Manchester Airport is enjoying a period of sustained growth and Ken will ensure that we maintain a sharp focus on providing passengers and airlines with the level of service that is rightly expected of us, while at the same time expanding the range of routes available from the airport.
"These appointments will enable the airport to continue to flourish and help drive economic growth across the North, and support the development of the Group as a leading airport services company."
Ken O'Toole, Managing Director of Manchester Airport, said: "I'm delighted to be taking on the role Managing Director at Manchester Airport at such an exciting time. Over the last few years we've seen phenomenal growth, and I look forward to taking the airport back above its record peak.
Andrew Cowan, Chief Strategy Officer at M.A.G, said: "It's a hugely exciting time in the airport sector and I'm delighted to be taking on this new role. As M.A.G continues to grow, it will become increasingly important that we capitalise on our position as a major airports group. We've already made big strides in this regard but there is still enormous potential for us to develop and grow the Group, generating further value across all our activities."
Related airports
Related organisations